In 2015, the global market size of service robots reported USD8.49 billion, surging by 42.2% on a year-on-year basis, and it is expected during 2016-2020 to show an annual average growth rate of 16.5%, which will be mainly driven by: (1) The aging of population, shortage of labor force, the rise of per capita income and so forth spur the growing demand for family service robots; (2) Breakthroughs have been made in the emerging technologies such as human-machine interaction (HMI) and internet+, contributing to the maturity of service robots.
Compared with industrial robot, the global service robot market is still at an early stage in industrialization, which is dominated by the players from Japan, Germany, the United States, etc. As the most potential market of service robots around the globe, China's market scale reached RMB8.2 billion in 2015, and will be over RMB30 billion by 2020 with the help of markets like artificial intelligence (AI) and the Internet.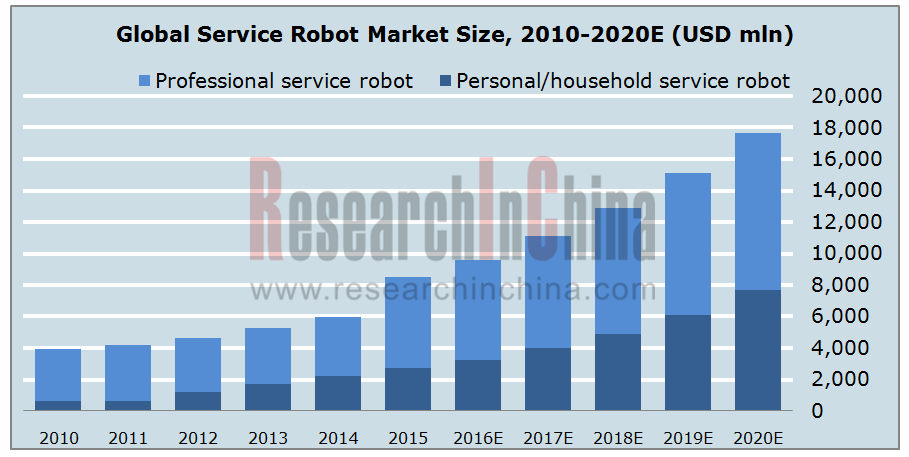 According to the type of service, service robots can be divided into personal/household service robot and professional service robot. In 2015, professional service robots contributed to 63.1% of sales, while personal/household service robots 36.9%. Nevertheless, due to the merits of small body and low cost, personal/household service robots represented by cleaning robot are easy to be mass-produced, which therefore are anticipated to achieve explosive growth in the future and sweep an estimated market share of nearly 50% till 2020.
For that reason, numerous companies such as Irobot, Ecovacs, Fmart, Xiaoi Robot, and Minleo have set foot in the field of cleaning robots.
Medical robot is one of professional service robots with most potentialities. In particular, surgical robot and exoskeleton robot are set the stage for industrialization. At present, Intuitive Surgical, Inc. is the leader in surgical robots, holding a global market share of more than 50%; and Israeli ReWalk lead the competition in exoskeleton robot market. By contrast, China medical robot market started late, featured with a low penetration rate and with the enterprises generally small-sized. But facilitated by the intelligent healthcare+internet industry, the medical robot market of China will maintain a growth rate of about 30% in the forthcoming five years.
In general, the service robot market embraces bright prospects and Chinese companies and foreign counterparts compete fiercely. The entrants now fall into the three groups:
1) The emerging research-based enterprises (such as Jibo, Kinightscope, Savioke and UBTECH) by technical superiority are generally small-sized and with a singularity of products, and they desires to be operated with the help of financing, pre-sales, leasing and other means.
2) The enterprises (such as Ecovacs and Fmart) accessing to the service robot field by intelligent upgrading of traditional products make perfect channel layout and see comparatively rapid market development.
3) The giants such as Google, Amazon, Microsoft, Alibaba and SoftBank enjoy advantages in capital and industrial chain, and make their presence through means like acquisitions into the service robot field, in a bid to capture the market opportunities.
Global and China Service Robot Industry Report, 2016-2020 by ResearchInChina highlights the followings:
Size, product structure, regional development, enterprise pattern and development tendency of global service robot market;
Environment, size, regional distribution and development trend of China service robot market;
Development of global and Chinese personal/household service robot markets and segmented products (housekeeping service robot, education robot, accompanying robot, etc.);
Global and Chinese professional service robot market scale and development of segmented products (like medical robot and agricultural robot);
Global and Chinese market development of core components(servo motor, sensors, lidar, intelligent speech, etc.) for service robot ;
15 global and Chinese personal/household service robot companies' operation and development of their service robot business;
10 global and Chinese professional service robot companies' operation and their development strategies.
Source:
http://www.researchinchina.com/Htmls/Report/2016/10316.html