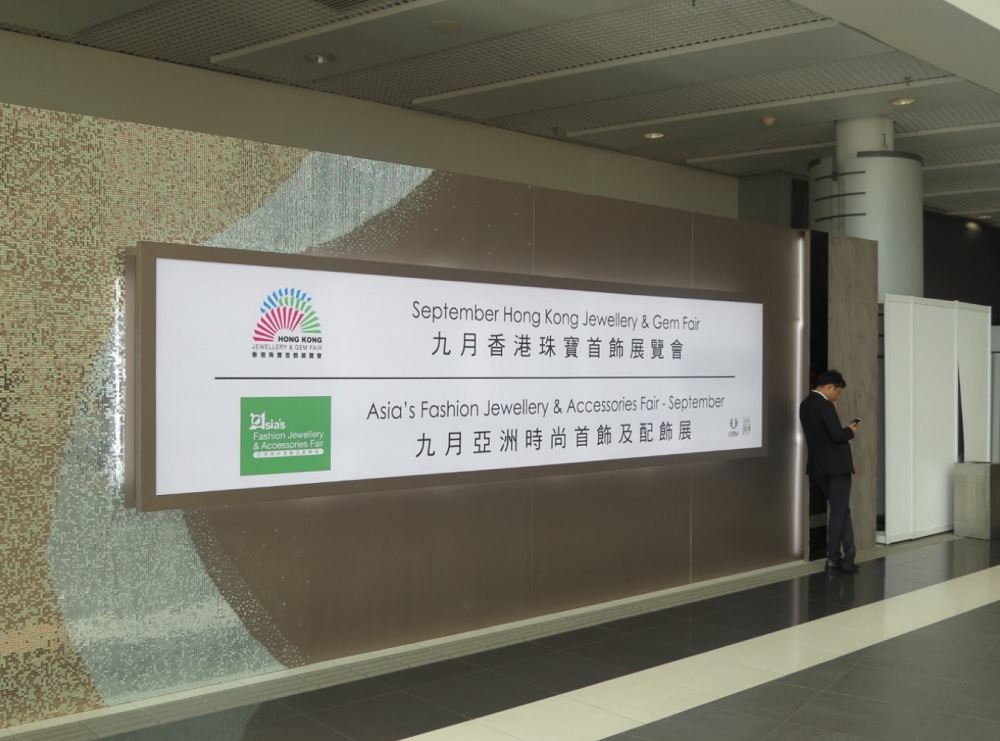 Last week's Hong Kong Jewellery & Gem Fair set an improved tone for the diamond market despite challenging conditions in the Far East. Overall, it should be considered a good show as dealer trading picked up after a very slow summer. After all, given its scale and timing, the September fair is well positioned to signal the level of activity that can be expected in the important fourth quarter holiday season.
That'snot to say trading was exceptional. Rather, exhibitors came to the show with low expectations, which were surpassed. Buyers have been out of the market for a long time and its time now to replenish, explained Sandeep Selot of Elements Limited, a supplier of melee diamonds.
Indeed, a number of jewelry manufacturers noted they're looking at buying diamonds after a long hiatus.
''We avoided buying in the past two years, which turned out to be a good decision,'' said Ephraim Zion, managing director of Hong Kong-based Dehres Ltd, which specializes in large precious stones and high-end jewelry. ''There are those with depleted stock who are considering buying again.''
Inventory in Balance
Still, the market is conservative and the show's steady traffic did not translate into strong sales, exhibitors noted. Buyers were cautious and polished diamond suppliers were not prepared to reduce prices as they tried to protect their margins against a buoyant rough market.
Jewelry wholesalers and retailers may need to replenish stock, but they're not buying as much as they used to as they're adjusted to managing lower inventory. The show demonstrated that the level of goods required by the industry has fallen in the past few years as major retailers, mainly from the Far East, have slowed their store expansion programs and consumer demand has stagnated.
That reality has filtered through the distribution chain to the mining companies, which have scaled down production this year. The midstream diamond manufacturers and dealers, meanwhile, are slowly playing catch up, having held the burden of the industry's excess inventory for so long.
They seem to be making progress. Supply and demand is in balance, inventory has been reduced and the market is in a healthier position than it was a year ago, assured Lawrence Ma, president of the Diamond Federation of Hong Kong, China Ltd, at the show's opening press conference. Others noted that diamond manufacturing continues to ramp up before India's Diwali break from October 30, and therefore polished inventories continue to rise in the short term.
Shifting Consumer Demand
Ma's fellow panelists at the press conference were less upbeat as they represented Hong Kong's jewelry manufacturing and retail sectors. As a bellwether of Far East demand, the show signaled continued uncertainty about consumer spending in Greater China, even if diamond trading was ''in balance''.
Short term sentiment is weak and its affecting consumer spending, Kent Wong, the managing director of Chow Tai Fook who also serves as chairman of the Hong Kong Jewellers & Goldsmiths Association, told the press.
The major Hong Kong-based retailers have had to adjust their strategies to accommodate shifts in consumer spending. The likes of Chow Tai Fook and Luk Fook last year opened a quarter of the net stores they did in previous years across mainland China and Hong Kong. Furthermore, they're tied up in leases which are not expected to be renewed on expiry at many locations, particularly in Hong Kong where luxury retailers are navigating lower sales largely because of the recent drop in tourist traffic.
The number of tourist arrivals dropped 7.4 percent in the first half, with traffic from mainland China slumping 10.6 percent, according to the Hong Kong Tourism Board. Tourists from the mainland have shifted to destinations that offer competitive foreign-exchange rates such as London, South Korea and Singapore as that suits their luxury-shopping expeditions.
Politics & Policies
Political and social factors have also played a role in discouraging tourist arrivals from the mainland. ''Locals in Hong Kong have tended to look down on the Chinese and were not always so welcoming to tourists,'' explained one jewelry wholesaler. ''That's come back to haunt them now.''
The market in China is better than Hong Kong, exhibitors agreed. The Chinese are spending more domestically as the government continues its program of realigning the economy from an export and investment-driven market to one that is more consumer-centric. However, it's a gradual adjustment and volatility in Chinese demand can be expected in the short term, De Beers stressed in its Diamond Insight Report released during the show.
Simultaneously, the government's anti-corruption campaign has forced consumers into scaling down on flagrant displays of wealth. That, along with slowing economic growth, has influenced Chinese consumers to shift to lower price points when spending. In general, it means they compromise on size rather than quality, according to Jerrica Chua, a sales manager at Hong Kong-based wholesaler Brilliant Jewellery Manufacturer. ''We're making more products with less diamonds and lower quality gold,''added another wholesaler focused on bridal jewelry.
Growing Together
For the diamond trade, China remains a difficult market to crack. The government has tightened its money transfer policy resulting in delayed payments, while the anti-corruption campaign has stifled the cash business. Furthermore, the big jewelry retailers are not buying the volume of diamonds they used to, having over-extended themselves in the past decade.
But, as one Indian diamantaire noted, there are a number of other jewelers with 200 to 300 outlets that are ready to do business. ''For them, it's not about price but about growing together,''he said.
In that sense, the September fair demonstrated the region remains filled with potential. More than anything else, the show proved to be a platform to tap that potential rather than an immediate selling opportunity.
''The nature of shows has changed. People are not giving orders on the table the way they used to but it's an important place to connect with people,'' stressed Arnav Mehta, a director of Blue Star Diamonds, a diamond manufacturer. ''There was no talk of discounting at the show. Its more about how we can give service because retailers want to know how their suppliers can help them differentiate.''
No one expected the September fair to be booming. But the trade was looking for assurances about diamond dealer demand and the long-term feasibility of the Far East amid its current challenges and volatility. At the very least they received those assurances, enabling diamantaires to enter the fourth quarter holiday season with a little more confidence than before.
Source:
http://www.diamonds.net/News/NewsItem.aspx?ArticleID=57978