Founder of the blue denim jeans – Levi's has launched a new jeans for kids – Knit Denim, which has the looks of denim jeans but feel like sweat pants.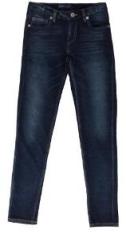 With a roomy cut designed to promote movement, the heritage-style knit denim gives kids the look they want without the harsh fabric.
Just like traditional jeans, the styles feature real hardware like buttons and rivets, and are available in an assortment of washes for both girls and boys.
Alongside, Levi's is also offering a matching knit denim jacket.
The Knit Denim has been in a variety of cuts. Styles for boys include straight-legs and cargos, while girls can choose from trendy skinny jeans and joggers.
Sam Haddad, Principle at Haddad Brands, kids licensee for Levi's says, "Kids hate the way denim feels, but they want to look fashionable. Now, we've found a way to make jeans that are both comfortable and stylish." (AR)
Source:
http://www.fibre2fashion.com/news/apparel-news/newsdetails.aspx?news_id=167430