The 4 foot diameter digitally-controlled spinning sphere which was built by some of the regulars at the Hoboken NJ Maker Bar, combines LEDs, optical illusions, art, open-source hardware and a hint of danger. Looking for all the world like a pint-sized prototype of the time-space transporter used by Jodi Foster in the movie "Contact", the whirling LED array uses the persistence of vision effect to paint 360 degree images in thin air.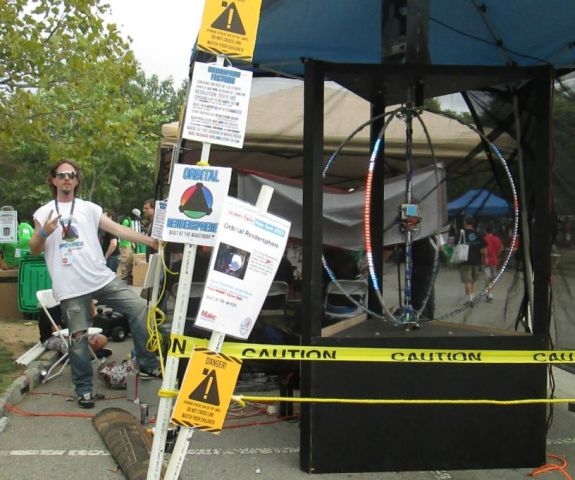 Stay clear of the whirling sphere please, this is not a toy! Weighing in at over 350 lbs, the Rendersphere is a mix of Maker-style electronics and good-old-fashioned mechanical ingenuity which was originally hacked into life as an entry to Red Bull's "Create" contest. It paints its images with 400 RGB LEDs placed on 4 ribs that spin at 450 rpm. The LEDs are updated quickly enough to produce a 30 frame per second refresh rate.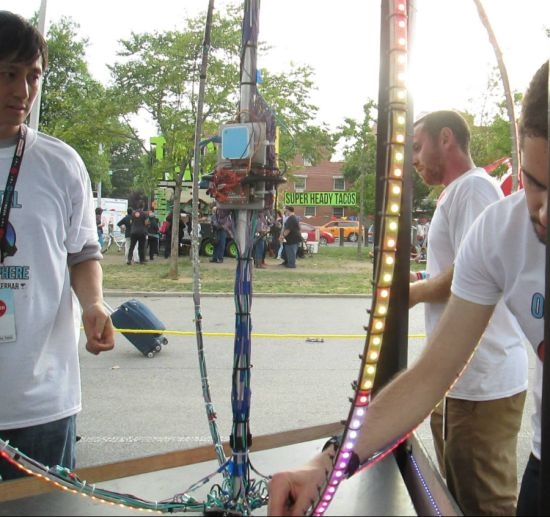 The Rendersphere's LED controller is based on a BeagleBone Black board. It's hooked up to a mini router and has custom shields that use buffers as line drivers and a 100 ohm resistor on each line to combat impedance. Most of the mechanics stay stationery on the central spine.
All that complexity disappears in a blur as the Mighty Rendersphere spins up to speed and begins to do its magic. Jennie Bourne, my colleague and ace videographer, managed to capture a bit of that lighting in a bottle in this short video.
Since we shot it at dusk, the video we shot doesn't convey the Rendersphere's full visual impact, so we've borrowed some images from the team's Facebook page to give you a better idea of the brilliant, albeit low-rez images the contraption paints in space.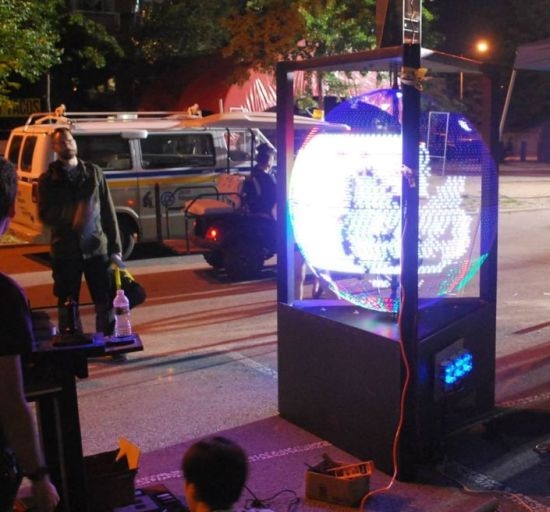 Despite its limited resolution, the Sphere's enticing mix of beauty and danger made it a winner with both the crowds and the judges at Maker Faire 2013 where it won several awards.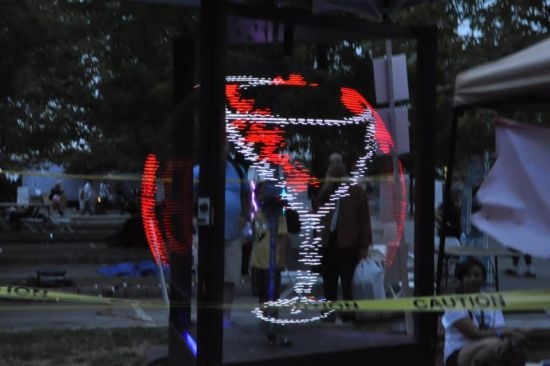 Nevertheless I left the faire wondering what this highly- creative team could do if they had more sophisticated equipment to work with – and another year to tinker. I'll be looking for it this year to see if whether the intrepid Hackers from Hoboken were able to make some of the upgrades they were talking about.
Source:
http://www.led-search.com/news-view-3393.html