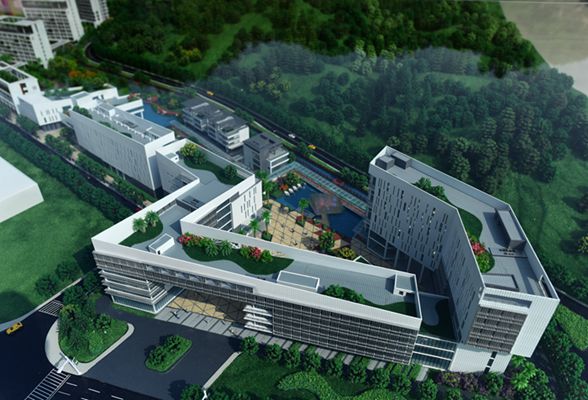 A design drawing of Guangdong Technion-Israel Institute of Technology (GTIIT) in Shantou, south China's Guangdong Province. [Photo: Xinhua]
Construction began Wednesday on a technology institute cooperation between a Chinese and an Israeli university in south China.
The Guangdong Technion-Israel Institute of Technology (GTIIT) in Shantou City, Guangdong Province, is being developed by Shantou University and the Technion-Israel Institute of Technology. The facility will begin enrollment through the national college entrance exam next year with plans to increase its enrollment of students from 300 in the first year to more than 5,000.
Some teaching staff will come from Technion-Israel and the rest will be recruited globally.
"Our mission is to remodel Technion's educational goals to pursue new dreams and ideals of reform in the educational system and write a new chapter for innovative education in China," said Li Jiange, president designate of the GTIIT. Li has had a long service in China's government, academic and financial spheres.
"Since 2001, Shantou University has pioneered a series of constructive reforms in higher education. Together with the Technion-Israel Institute, I am excited at the prospect of even greater transformative change for the individual and for our country," said Li Ka-shing, Hong Kong's richest man, who played an important role founding the institute.
"The GTIIT will be home to the wise and the innovators," he said at the inauguration ceremony.
With a history of more than 100 years, Technion-Israel Institute of Technology has had three Nobel Prize winners, including Aaron Ciechanover, who shared the prize in chemistry in 2004 with two others. Ciechanover will be vice chancellor of the new facility.
After receiving a donation of 130 million U.S. dollars from the Li Ka-shing Foundation in 2013, Technion-Israel Institute of Technology agreed to set up a joint institute with Shantou University. Guangdong provincial government and Shantou municipal government will spend about 900 million yuan (140 million U.S. dollars) on early operation and have given about 42 hectares for the campus.
"We hope all parties will cooperate to build an institute with high standards and efficiency, and make it a higher education institute of national importance," said Zhu Xiaodan, governor of Guangdong.
China had eight joint universities with foreign counterparts.
Source:
http://english.cri.cn/12394/2015/12/16/4182s908679.htm