Shenq Fang Yuan Technology Co., Ltd., a major machining-center maker in Taiwan founded in 1996, is known for simultaneous-motion five-axis machines mostly for processing intricate products such as watch cases, jewelry, small and mid turbine blades, and tire molds for high-end cars, with notable products being the HA-5AX2, HA-5AX7, 5AX-680AT, 5AX-2000, 5AX-52B, 5AX-890, 5AX-3000, and 5AX-6000.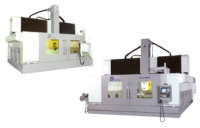 Shenq Fang Yuan specializes in simultaneous-motion five-axis machining centers.
For manufacturers who value keeping trade secrets, HA-5AX2 and HA-5AX7 are ideal machines for compactness. HA-5AX2 measures 1,560mm (L) x 1,450mm (W) x 1,840mm (H) and weighs 1,700 kilograms. HA-5AX7 comes in HA-5AX7A and HA-5AX7B models, with the former measuring 2,145mm (L) x 2,520mm (W) x 2,540mm (H) and weighing 6,000 kilograms.
HA-5AX2's X, Y, and Z axes have travel distance of 200mm, 140mm and 140mm, respectively. And its B and C axes swing through +/- 110 degrees and +/- 360 degrees. Rapid feed rate is 15,000 mm per minute for X, Y, and Z axes and 16 and 22 rounds per minute for B and C, respectively. Spindle nose to table surface is 20mm to 160mm away. Spindle turns at maximum speed of 30,000 rounds per minute. The five axes are driven by AC servo motor rated at 10KW/13HP. Maximum loading weight is 15 kilograms on the machine's round table in diameter of 85mm.
HA-5AX7A has X, Y, and Z axes that travel 600mm, 400mm and 400mm, respectively. Like HA-5AX2, the bigger machine's B and C axes rotate +/- 110 degrees and +/- 360 degrees. Rapid feed rate is 20,000 mm per minute for X, Y, and Z axes and 11 and 16 rounds per minute for B and C axes, respectively, in HA-5AX7A. HA-5AX7A's spindle nose is 15mm to 415mm away from table surface. Maximum spindle speed is 30,000 rounds per minutes, with spindle speed ranging from 3,000 to 25,000 rounds per minute. AC servo power rated at 30KW/13.3HP is the driver of the five axes.
Shenq Fang Yuan contract supplies Breguet watch cases.
Although the company is only 17 years old, its general manager, Jimmy Huang, has been in the industry for over 30 years and stresses that the company has many advantages over competitors.
"Our machines can be scaled up to workstation grade in accordance with specific customer needs, we plan automation for customers, and a notable feature is the automatic dial-up of pre-set phone numbers over the Internet upon identification of problems that are not being solved. And we design all main components and assemble machines in-house," Huang reports.
In-house design and assembly allow the company to avoid underselling and dispute over defect product liability, Huang stresses.
According to Huang, the company used to specifically design a fully automated CD-R making machine at the size of a table for a big-name maker on the island, proving the company's capability in automation.
The company's automated machines involve CCTV camera technology, which used to be Huang's main focus before opening a machine-tool business. "CCTV camera is the eye of automated machines while servo motor is tantamount to hands," he says.
The company exports its products mostly to the United States, Canada, Mexico, Brazil, Hong Kong, Singapore, Thailand, Malaysia, India, Indonesia, Turkey, Greece, France, Germany, the United Kingdom, Poland, Russia, Ukraine, and Slovak Republic.
Source:
http://www.cens.com/cens/html/en/news/news_inner_43335.html