19th October, there held a lighting event in Japanese Shiroyone no senmaida in Wajima city of Ishikawa; after 16:00 o'clock, there are about 450 volunteers put the solar panels, rechargeable batteries and plastic bottles filled with LED around the farmland, the total used of about 21,000 LED lights.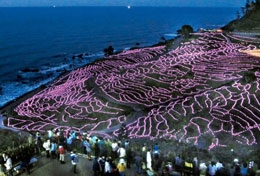 Shiroyone no senmaida is the first Japanese world agricultural heritage terraces which was identified by Food and Agriculture Organization in 2011, it is also the world's largest LED lighting locations. This year's lighting event is a month earlier than usual; the LED lights turn on automatically after sunset, and off automatically after 4 hours lighting, this activity will continue until March 15 of next year.
More than 21,000 LED lights are flashing along the ridge, plus the Japanese Sea as background, the farmland showing a fantasy scene. Tourists said, LED shine in the night sky is far more beautiful than expected.
Source:
http://www.led-search.com/news-view-3481.html