Seaborne iron ore prices reversed losses Tuesday, as bullish expectations on Chinese economic performance provided stronger support for the steel raw material.
Platts assessed the 62% Fe IODEX $0.75/dmt higher on day at $96/dmt CFR North China.
Buying interest for seaborne iron ore were heard to be firming throughout the day as both traders and steelmakers emerged to seek spot materials as they believed the market is recovering.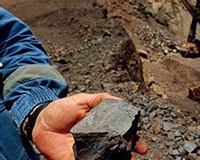 A Shanghai trader who also thought demand was stronger said there were growing expectations that the Chinese government in a bid to promote economic growth would be more liberal in its fiscal spending and that led to more bullish sentiment for iron ore prices.
"The economic performance for China was lackluster for the first half of the year, and if Premier Li keqiang were to keep his pledge to maintain 7.5% growth for 2014, a slew of expansionary fiscal and monetary polices to boast economic growth is warranted," said a Shanghai-based trader who was optimistic that stronger economic growth for China would eventually lead to more steel consumption and a firmer ore price.
Another mill source in Tianjin who also thought buying interest had intensified said it was now easier to secure financing for spot purchasing of iron ore as the banks eased their restrictions on financing to mills.
A Hebei-based steelmaker said that his longer-term outlook for the steel and iron ore markets was more positive than most other end-users. The main reason for this was that the Chinese government had shown its commitment toward maintaining growth and economic development for the remainder of the year, he said.
"This will definitely provide some support for steel consumption as manufacturing will go up, and in turn iron ore demand will see a boost," the steelmaker said. "I doubt prices will spike up that significantly, but we should be seeing an upward movement in general."
But other sources noted that mills were not in any hurry to purchase large volumes all at once, preferring to buy only as and when they needed to. "Supply is not a problem at all and there is so much availability of spot material."
A Zhejiang-based trader agreed, saying that although the market was showing signs of improvement, buyers were "still conservative" due to the volatility of late.
Meanwhile, the iron ore futures market also improved, benefiting from the positive sentiment derived from expectations of governmental efforts to lift China's economic showing. The most actively traded September iron ore future on the Dalian Commodity Exchange closed at Yuan 720/mt ($116.75/mt), up Yuan 13/mt on the day, and settled at Yuan 709/mt, Yuan 6/mt higher.
Steel rebar futures also gained Tuesday. The most liquid January rebar contract in Shanghai last traded at Yuan 3,116/mt ($505.75/mt), up Yuan 28/mt from Monday, and settled at Yuan 3,097/mt, up Yuan 7/mt on the day.
The spot square billet price in Tangshan however were down Yuan 20/mt on the day to Yuan 2,730/mt ($443/mt) ex stock, a steelmaker said.