Cree has added to its residential-targeted LED retrofit lamp family with a BR30, while Soraa appoints execs, MaxLite expands its engineering department, and Dialog closes iWatt acquisition.
Cree Lighting has announced a 9.5W BR30 LED lamp for floodlight applications that delivers 650 lm, replacing 65W legacy lamps. Soraa intends to expand its solid-state lighting (SSL) business and has added North American and international executives. MaxLite has added an engineering team at its New Jersey locations including additional personnel. Dialog Semiconductor announced its intention to acquire LED driver IC vendor iWatt a few weeks back and closed that transaction this week.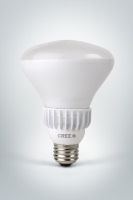 Cree BR30 LED lamp
Cree BR30 lamp
The Cree BR30 lamp is another step along Cree's plan to convert 100% of lighting applications to LEDs. Vice president of corporate marketing Mike Watson says that the BR30 lamps could save residential customers even more energy than the A-lamps announced earlier this year because the BR30 lamps are used in applications such as kitchen downlights that burn for extended periods of time and are often on circuits with as many as eight lamps.
Cree used a similar LED filament tower in the BR30 to the one developed for the A-lamp. Moreover, the lamp's base and driver electronics are virtually identical while the BR30 uses smaller XB-G LEDs. Still, the similarities will help Cree reduce manufacturing costs and the company has the lamps on the market immediately via The Home Depot at $19.97 for a 2700K model and at $21.97 for a 5000K model.
As with the A-lamps, the warmer-CCT lamp is ironically a bit cheaper even though warm-white LEDs are generally more expensive and offer lower efficacy. But Cree and The Home Depot expect to sell far more of the warm-white lamps. For a more detailed story on the lamps, see our dedicated news story on the BR30 announcement over on our Illumination in Focus website.
Soraa executives
Soraa, meanwhile, said that an escalation in demand for the company's MR16 LED-based lamps has led the corporation to expand its sales organization. George Stringer has joined Soraa as senior vice president of North American Sales and Nick Farraway joins as senior vice president of international sales.
George Stringer, Soraa SVP of North American Sales
Stringer joins Soraa after 16 years with Acuity Brands, most recently serving as vice president and general manager of corporate accounts. Farraway has held senior roles at Sylvania, Thom, and Zumtobel in the lighting industry. "Both George and Nick bring energy, ingenuity and industry insight to help us chart a successful course for the company in the coming years," said Tom Caulfield, president and COO of Soraa.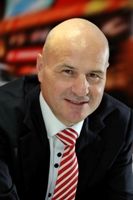 Nick Farraway, Soraa SVP of international sales
MaxLite adds engineering
Early LED lighting mover MaxLite has previously relied on an engineering team in its Rancho Cucamonga, CA office but needed additional resources as the company's SSL business has escalated. The company has now added an East Coast engineering team in the West Caldwell, NJ office and said that the two sets of resources will work in an integrated fashion.
Joining MaxLite on the East Coast, Robert Davis takes on the responsibility as product engineering team manager. Davis has 22 years experience and was until recently a senior design engineer at Acuity Brands. MaxLite also added Estrella Kim, a controls expert who worked previously at Osram Sylvania, and Aymen Chami, who has worked as an engineering intern at MaxLite.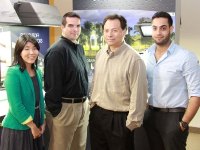 MaxLite East Coast engineering team
The Eastern team will report to James Steedly, director of product R&D and engineering, who is based in Rancho Cucamonga. "MaxLite's engineering presence on the East and West Coasts proves our commitment to developing and launching new products more quickly and efficiently into the marketplace," said Steedly. "With the two engineering engines working in-sync together, MaxLite can increase its volume of innovation and speed up product development, especially in the ever-changing LED marketplace."
Dialog acquires iWatt
Dialog Semiconductor based in Germany announced in early July its intention to acquire iWatt for $310 million in case and as much as $35 million more based on future revenue performance of iWatt. Dialog closed the transaction on July 16.
Dialog has a relatively broad semiconductor portfolio including some power-management ICs, but has not been a major player in the LED lighting business. iWatt wasn't dedicated to the LED segment, but the SSL market has been a key driver in the company's growth in recent years. iWatt has been at the forefront of using digital state machines to control dimming in driver ICs for LED retrofit lamps.
It's not clear what the acquisition might mean for the SSL industry and the lighting manufacturers that rely on iWatt products. Dialog mentioned AC/DC charger products as a key reason for the acquisition, although the company did also mention iWatt's success in the LED market. Still, it seems Dialog was more interested in iWatt's patent portfolio in the digital power area than in its LED driver IC business. iWatt had $74 million in total revenue for 2012.
About the Author Maury Wright is the Editor of LEDs Magazine and Illumination in Focus.
Source:
http://ledsmagazine.com/news/10/7/11