The much awaited JAMIA BAZAAR is here again! A two day exposition at India Islamic Culture centre, the exhibition opens out the alternative, but spirited world of Jamia Nagar to Delhi's denizens. Jamia Bazaar was formally inaugurated and present on the occasion were Hon'ble Chief Minister of the state of Jammu and Kashmir Mr Omar Abdullah and Actress Gul Panag along with other eminent dignitaries.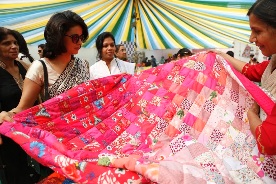 The third edition of the Jamia Bazaar which started today is being organised by the NGO - Centre for Equity and Inclusion (CEQUIN), an initiative of social activist Sara Pilot and Lora Prabhu.
Stocked with locally made craftworks for home furnishing, fashion accessories, clothes and festive gift items for the shoppers, and spiced up with mouth-watering cuisine from the undiscovered streets of Jamia for the foodies, the Jamia Bazaar is something more than just an ordinary fair. It has an emotion to describe, a tale to tell.
With a wide range of products to fit every pocket, visitors can enjoy shopping for embroidered kurtis and salwars, shawls, bags, jewellery, high fashion ware, interesting items for kids, home furnishing, lamps, candles and lots more, completely handmade by women artisans and designers. The exhibition will showcase an interesting fusion of high end fashion with grassroots artisan skill sets – a celebration of traditional art, evolving fashion and women's entrepreneurship.
There is also a gourmet trail featuring hot biryani, melt- in- the- mouth kebabs, achari chicken, kashmiri wazwan etc.
To add to the fun there are beauticians trained at CEQUIN's Jamia centre offering guests on the spot services like mehendi, nail art, foot massage etc. Live demos of adda work, crochet, resham embroidery will provide the visitors a unique experience to observe the skilled labour that goes into creating extraordinary works of fashion and art.
Sara Pilot, Chairperson CEQUIN on this venture, said, "The bazaar opens a whole new world for these women living at the fringes of society, bringing to light their vastly neglected, but laudable talent and enterprise, thereby making a tremendous effort in uplifting the spirit of these women and the ghettoised communities of Jamia Nagar on the whole."
The exhibition is being organised by women who are a part of CEQUIN's Gender Resource Centre in Jamia Nagar in partnership with other local NGOs including Muslim Women's Welfare Organisation, IIWA, Roshni Craft Centre, Azra and several others.
Source:
http://www.fibre2fashion.com/news/textile-news/newsdetails.aspx?news_id=154645