The second edition of Texworld Istanbul opened its doors yesterday and will continue till April 9, 2015 with 112 exhibitors from 12 countries exhibiting at the show.
It has returning exhibitors from Bangladesh, China, Egypt, Germany, Hong Kong, India, Indonesia, Korea, Pakistan, Taiwan, UAE and Turkey also a few first-time exhibitors from Turkey, China and Taiwan.
Fabric and accessories on display include wool, cotton, denim, embroidery & lace, functional fabrics, knitted fabrics, linen & hemp, prints, shawls & scarves, trims & accessories.
With a focus on Turkey, Middle East, Central Asia, Russia, Eastern Europe and North Africa, Texworld Istanbul targets fashion brands, garment manufacturers, retailers, wholesalers, designers, etc.
According to a Messe Frankfurt press release, there are many materials and fabrics which are used in the Turkish garment industry but not produced locally, which will be shown by exhibitors at the show.
Delegations from associations like the Uludag Textile Exporters' Association (UTIB), Denizli Exporters' Association (DENIB), Osmanbey Textile Businessmen Association (OTIAD) too are attending Texworld.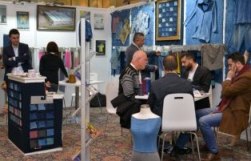 In addition, Texworld Istanbul will again feature a seminar program and Trend Forum with selected fabrics and accessories from participating exhibitors.
The forum has been designed by Texworld's Art Directors Louis Gérin & Grégory Lamaud and is based on the Texworld Paris trends.
There will be dedicated seminar sessions by the Texworld's Art Directors as well as Turkish Fashion Designers Ezra Çetin & Tuba Çetin.
Vakko Esmod Istanbul Fashion Academy will present a seminar by from Dominique Boillot, its Fashion Design Teacher.
As a novelty, there will be a workshop during the fair titled "Shirt Making with the Draping Method" by Nadia Haouach, Pattern Making Teacher also from Vakko Esmod Istanbul Fashion Academy.
"Following Texworld in Paris and New York, Texworld Istanbul is moving into position as a new member of this strong international brand," said Tayfun Yardim, Managing Director, Messe Frankfurt Istanbul.
He added, "We expect to have our exhibitors and visitors experience many new impressions, ideas and connections."
According to Turkish government statistics, apparel exports from Turkey totaled $18.7 billion in 2014, registering a growth of 8 per cent compared to 2013.
Source:
http://www.fibre2fashion.com/news/textile-news/newsdetails.aspx?news_id=171660