Clothing made from tropical fabrics such as piña and banana are usually used only during weddings, baptisms, burials and other special occasions in the Philippines. But the Philippine textile research institute of the department of science and technology (DOST-PTRI) is keen on making tropical fabrics more mainstream, it said on its website.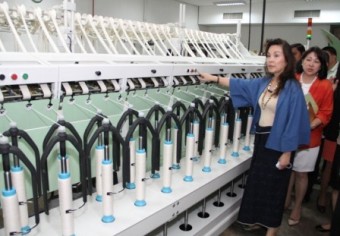 The establishment of PTRI's P54 M innovation centre for yarns and textiles (ICYT) that will produce yarns customized to customers' and industry needs is a step closer to this goal which is part of the bigger objective of revitalizing the textile industry in the country.
The innovation centre has been established to produce yarns of abaca, banana, pineapple and other indigenous fibres to make them available to handloom weaving communities and commercial millers or knitters in the country.
"We aim to make indigenous yarns accessible to our handloom weaving communities as well as commercial millers or knitters," said PTRI Director Celia Elumba during the launch of the innovation centre recently in Taguig City recently.
Elumba also revealed that PTRI has partnered with Power Fashion, the company behind the local clothing brands Unica Hija, Vise Versa, and Bayo, which has agreed to use locally produced tropical fabrics in one of their capsule collections.
The ICYT is just the first of PTRI's initiatives geared toward reviving the textile industry. Senator Loren Legarda, who graced the launching, expressed support for these initiatives.
Senator Legarda renewed her call for the convergence of concerned local government agencies in strengthening the local fabrics industry during the launch of the ICYT.
She said promoting the use of tropical fabrics will not only preserve Filipino culture and heritage but will also help support the agricultural sector. Legarda is the author of the Tropical Fabrics Law which aims to promote Philippine tropical fabrics through the use of such materials for the official uniforms of government officials and employees.
PTRI will also establish regional handloom innovation centers and work on upscaling the natural dye production in the country to complement the innovation centre.
DOST secretary Mario G. Montejo noted that the department's efforts in reviving the industry is part of its contribution to the government's vision of inclusive growth as these are seen to bring economic activity in the countryside.
Source:
http://www.fibre2fashion.com/news/textile-news/newsdetails.aspx?news_id=172711