Strategies Unlimited has issued new figures since the first edition of this article. Solid State Technology now brings you updated figures and additional information on the worldwide LED market.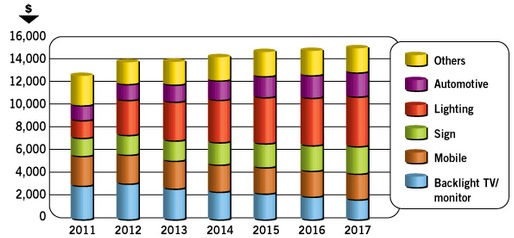 LED component revenue for lighting applications reached $3.11 billion in 2012, narrowly dethroning the large area display backlight segment at $3.06 billion, according to Strategies Unlimited, a market research firm covering the LED industry. The worldwide market for LED components was $13.7 billion and is expected to grow to $15 billion in 2017, for a CAGR of 1.8%.
The total illumination market for 2012 is estimated at $14.52 billion. LED lighting includes LED replacement lamps and luminaires is estimated at $11.72 billion—an increase of 26% between 2011 and 2012—and it is forecast to grow at a CAGR of 12% over 2012-2017.
The 2012 estimate for revenues for the illumination market, not addressed by the LED replacement lamps and luminaires is $2.75 billion revenue. These other applications include: decorative/festive/Christmas light strings; tube lights that go into many untraceable applications including signs; flexible tape and strips of LEDs sold in applications ranging from step lighting to lighting stairs to DIY cove lighting; and all other miscellaneous.
Commercial applications are the largest segment and grew the fastest—72%—in the LED lighting market followed by replacement lamps. Japanese market was the primary driver for the 22% growth in replacement lamp revenues from 2011 to 2012. The slower growing segments such as emergency and industrial lighting depend on the overall economic activity; entertainment lighting was a victim of slow down in European financial crisis, after the frenzy for the Olympics.
LEDs used in large display (TV and monitors) backlights also reached a new record at $3.06 billion in 2012. This is chiefly due to the success in penetrating the CCFL stronghold of the 32-inch TV. Low cost direct technology, also known as "chubby TV" technology because the TVs are thicker than edge-lit ones and narrows the price gap between CCFL and LED backlit TV to an insignificant level. Both Samsung and LG have announced they will stop making CCFL TVs.
Chubby TVs will spread from 32 inches in both directions in size. It is expected to reach TVs 42 to 50 inches size in 2013-2014. With drastic reduction in number of LEDs used and rapid price erosion, the large display market for LEDs is expected to decline to $1.7 billion in 2017.
The total market for LEDs in the automotive segment was $1.4 billion in 2012 and is projected to grow to $2.1 billion in 2017. The number of cars with LED headlights nearly doubled in 2012. Revenue for 2012 was $97 million and the five-year CAGR is projected to be 36%.
The number of cars with LED headlights nearly doubled in 2012. Revenue for 2012 was $97 million and the five-year CAGR is projected to be 36%. Revenue derived from daytime running lights (DRL) grew 31% to $200 million in 2012. DRL growth is expected to slow down as the penetration rate is forecast to reach 45% in 2017. The total market for LEDs in the automotive segment was $1.4 billion in 2012, and is projected to grow to $2.1 billion in 2017.
While LED revenue from tablets grew 54% to $578 million, the overall mobile segment dropped 3%. The drop in notebook backlight demand, the OLED success in smart phone display, and the general demand decline for other small and medium display will take the segment down to $958 million in 2017, for a 5 year CAGR of -7%.
Use of LEDs in signage and channel letters grew 7% to $1.7 billion in 2012. Full-color signs contributed more than 80% of the revenue. The most popular pixel densities for indoor displays are expected to be 3mm and 4mm in 2013, meaning more LEDs will be needed. The signage segment is expected to grow to $2.4 billion in 2017, for a CAGR of 7%.
On the supply side, 11 companies accounted for more than 72% of the LED market. Strategies Unlimited arrived at these figures after analyzing market demand as well as the supply-side activity of more than 54 LED component suppliers. The rank order of the top 11 suppliers in the LED market for 2012, by revenue of packaged LED components, is:
1. Nichia
2. Samsung LED
3. Osram Opto Semiconductors
4. LG Innotek
5. Seoul Semiconductor*
6. Philips Lumileds*
7. Cree
8. TG
9. Sharp
10. Everlight*
11. Lumens*
(*Companies have the same ranking when the difference in revenue is within the margin of error. Revenue includes sales of packaged LEDs of 30 lm/W or more.)
Samsung LED was absorbed into Samsung Electronics in 2012. By going vertical and successfully attacking the low cost direct TV market, LED sales soared at Samsung and at its chief supplier, Lumens. TG's success in the tablet backlight market and the Japanese lighting market brought high growth to the company. Cree and Philips Lumileds rode the rise of LED lighting and achieved record revenues.
Chinese packaging companies grew from 6% of worldwide sales to 8%. Major consolidation is expected in China as the pricing war is forcing out many players. Taiwanese market share dropped from 19% to 15% as there is an increase of OEM packaging activities. Only final sale is counted in this study.
The LED packaging industry is expected to grow modestly at a CAGR of 1.8% in the next five years. 2013 should see less severe price drops as excess capacity is slowly absorbed by the rise of lighting applications. Consolidation—both vertical and horizontal—can help improve margins.
Source:
http://www.electroiq.com/content/eiq-2/en/articles/sst/2013/02/worldwide-led-component-market-grows-9-percent-with-lighting-.html