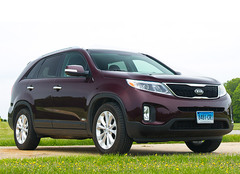 If you're looking for a vehicle with extra room for people, plenty of space for cargo, and even some off-road capabilities, a midsized SUV is a good choice. There are plenty of options, including a couple updated models that were just tested.
The Jeep Grand Cherokee is quite versatile with good performance, functionality, and off-road prowess. Our vehicle had no problem climbing our rock hill and the V6 is rated to tow 6,200 lbs. Plus, it can be had with a choice of V8 or diesel. Inside, the optional UConnect is one of the best designed infotainment system available.
While a little smaller than most midsized SUVs, the new Kia Sorento is very functional and family-friendly with optional third-row seating. The interior is open and airy with a good driving position and supportive seats. The controls and gauges are clear, and the Sorento gets a new comprehensive new touch-screen infotainment system. The V6 engine is new and refined, but the upgrades came at a price. While you can still get a lot for your money, it's not the bargain it used to be.
Besides these two new models, the Toyota Highlander has long been a top vehicle in the segment, with high scores for its refinement, quiet interior, ride comfort, power, and fuel economy. A redesigned Highlander hits dealerships in early 2014.
The Honda Pilot is a decent choice. It has plenty of space and great reliability, but many SUVs have moved past it.
The Chevrolet Traverse is very spacious inside, capably seating up to eight adults while leaving some cargo space behind the third row. The Traverse handles well, but fuel economy falls short of other three-row SUVs.
The long-wheelbase Hyundai Santa Fe is currently in testing, and we'll be reporting on the results in the coming weeks.
So, there are several compelling choices in this category, and there will soon be more.
For more on midsized SUVs, see our buying advice and Ratings.
Source:
http://news.consumerreports.org/cars/2013/06/video-midsized-jeep-grand-cherokee-and-kia-sorento-suvs-make-their-mark.html#comments