According to Visiongain, a British market research firm, the global flexible packaging market has reached some US$143.83 billion, mostly driven by growing sales of consumer products in emerging nations. In the next decade, the firm forecasts the global market will likely peak, given that food consumption in those developing economies has been on a stable uptrend over the decade.
Another British market information provider, Euromonitor, also looks at the future of the food and beverage packaging market with optimism, mainly based on its forecast that global spending on food and beverage will show a compound annual growth rate of 25% during 2013-2017, after totaling euro 2.715 trillion in 2013. Under the scenario, the company reported that the global trade of food processing and packaging machinery has persistently risen, to a record high of euro 33 billion in 2012 for an 8% growth compared to 2011, since a sharp decline in 2009, when the global economy was severely impacted by the financial meltdown.
The Dallas-based market research company, Markets And Markets, reported that the food packaging sector is the major end user of packaging materials and equipment, and global market value of this kind is projected to reach US$99.621 billion by 2018 at a compound annual growth rate of 5.1% for 2013-2018. The firm says that changing taste and preferences, as well as growing disposable incomes of consumers in the Asia-Pacific is the fastest-growing market globally for many factors, including local consumers' changing taste and preferences and growing disposable incomes, while China and India are leading in market growth, given growing populations and the consequential demand for packaged food, beverage, personal care products, and pharmaceuticals.
Under such promising scenario, Taiwanese packaging machinery suppliers are researching and developing new models with higher speed, better stability and greater functionality to meet customers' ever-changing requirements and generate mutual benefits.
High-Speed OPP Labeling Machine by Gold Great Good
A technologically leading supplier of labeling machines in Taiwan, Gold Great Good Machinery Co., Ltd., founded in 1986 in Taoyuan County, northern Taiwan, has launched several cutting-edge models that rival those made in Germany and Italy in performance and speed.
The automatic high-speed OPP labeling machine series is a striking example of the company's strong R&D capability. The MD-6000-OPP, the latest model in the line, has a star-shaped wheel that firmly carries containers while stably dispensing under high-speed operation, a servo motor that synchronously tracks label supply and cutting, and a specially designed vacuum drum to enhance labeling precision.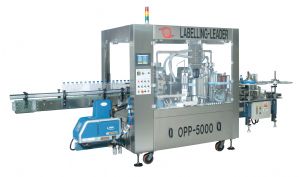 This machine adopts the so-called three-phase PLC and AV variable control with a synchronized tracking and control system to maintain label cutting accuracy at different speeds. For better stability, a welded, sturdy body enables the machine to label up to 600 bottles sizing 3,000c.c. per minute without malfunction.
Easy operation and maintenance, as well as enhanced safety add to its appeal. The machine has a centralized lubrication system and sensor to detect material feeding so it can automatically adjust speed according to feeding situation, and a safety device that shuts off the power upon irregular torque, abnormal feeding and other malfunctions.
Several well-known enterprises as Coca Cola, Pepsi, P&G, Unilever, Quaker, Uni-President, Taiwan's largest food and beverage supplier and operator of the 7-Eleven chain, and Kinmen Kaoliang Liquor, a state-owned distiller in Taiwan, are among Gold Great Good's customers, while nearly 99% of all bottled mineral water sold on the island is labeled by the company's machines.
Committed to continuous improvement of quality and functionality, L.H. Tsai, general manager, indicates that the company has just developed an upgraded model of MD-6000-OPP: The MD-9000-OPP has 900-1,000 bottle- per-minute capacity with higher stability and more stability to lead the industry.
"Gold Great Good is versed in electromechanical integration, and this competitive advantage enables us to develop top-tier labeling machines and compete against the big leaguers from Germany and Italy,"Tsai says proudly.
To further boost its global profile, the general manager reveals the development of a brand new rotary labeling machine, scheduled to be unveiled in 2015. Also being humble to admit that the model was originated by Italian and German suppliers who have set the trend, Tsai says that developing this model shows Gold Great Good's world-caliber R&D and technology capabilities.
Taiwan's No.1 Labeling Machine Supplier
Following nearly three decades of hard work, the company, which Tsai emphasizes worked out Taiwan's first homegrown, automatic self-adhesive labeling machine, has grown into the island's largest supplier to command over 95% share of the Taiwanese market.
This manufacturer supplies servo-labeling machines, front and back labeling machines, eco-friendly labeling (OPP roll-reed labeling) machines, labeling machines for thermal-film bottle packaging, auto shrinkable label inserting machines, multifunctional two-sided labeling machines, and round bottle labeling machines, marketing globally with its "Aplus" brand.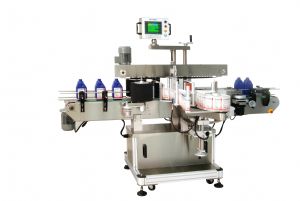 Tsai says that to achieve exceptional quality and boost competitiveness, the company's R&D department focuses on new labeling technology, and also invests considerably in innovation. Its new, optional 24-hour operation applied to the automatic labeling machine is proof of such effort. This firm is for now one of only a few Taiwanese companies supplying automatic label changers.
"We consistently focus on R&D to turn the company into a specialized labeling solution provider who satisfy customers with not just quality and speed, but also all-around services, including one-stop shopping. By supplying top-notch labeling machines under Aplus, we aim to become a top gun in the global market," says Tsai.
Continuous Thermoforming Machine by Cheng Mei
Since plastic containers for food, fruit and other preserved food are also part of flexible packaging that is heavily demanded worldwide, the continuous thermo-forming machine CM-80T from Cheng Mei Machine Co., Ltd. is a high-performance, economical solution for end-users to handle small-volume, large-variety production.
The machine has a servo crank in the upper mold, which greatly enhances precision and speed of die cutters' positioning, and a servo-controlled material support mechanism that allows easy process controls according to product height. This machine adopts improved steel rule die cutters, hence assuring end-users of lower cost on die development and maintenance compared to ordinary models with conventional die cutters.
The machine also features the cutting block coupled with a balance stabilizing design, to ensure even pressure distribution of die cutters, a sturdy body of F.C.D. (ferrous casting ductile) castings, and a color touchscreen monitor along with user-friendly PLC. This machine produces various food containers and industrial packing materials of PP, HIPS, OPS, PLA, PET, PVC, PE, ABS, PSP, and so forth.
Kevin Wei, sales manager, indicates that this machine functions as between a fully-automatic and semi-automatic model, with high performance and cost-efficiency to be perfect for end-users to enhance production flexibility. The machine will be demonstrated at Taipei Plas 2014, to start September 26 with Cheng Mei in booth L1118; while more functional and popular machines will be exhibited at the factory during the show to allow foreign buyers to see a better picture of its R&D achievements.
Thermoforming Machine Specialist
Cheng Mei has specialized in developing and manufacturing air pressure and vacuum forming machines and cutting machines for nearly 30 years, and marketed to over 200 customers from 40 countries, including Brazil, Chile, Argentina, Spain, Romania, Thailand, Indonesia, the Philippines, Vietnam, China, India, Dubai, Iran, South Africa, Egypt, and so forth
Wei notes that Cheng Mei capably provides not just high-performance vacuum thermoforming machines, but also durable, reasonably priced precision molds and dies as economical solutions. Our talented R&D engineers apply state-of-the-art technologies including CAD (computer aided design) to achieve great performance, easy operation and maintenance, low energy consumption and high added-value to compete globally.
To better satisfy customers with solutions to thermoforming production, Wei mentions that his company is working to expand product range to optimize product mix, and to help customers build flexible, high-efficiency production lines.
The company's product portfolio has been expanded to cover automatic punching and cutting machines, air pressing machines, vacuum forming machines, digital continuous air pressing/vacuum forming machines, cutting machines for metalworking etc., which are adopted by end-users from packing materials, electronics and food sectors.
Vacuum Forming Machine from Hanyamn JoungMainly to produce containers for packing electronic parts and food, the micro-computer fully automatic vacuum forming machine and micro-computer continuous vacuum shaping machine (chain-style) from Hanyamn Joung Industrial Co., Ltd. also help end-users to enhance productivity, efficiency and performance.
The micro-computerized, fully automatic vacuum forming machine adopts computerized automatic-controlled multi-settings, hence featuring easy adjustment and rapid response to temperature fluctuations. This machine has a DC motor to steady operational movement to minimize damage to parts, with the electric heater driven by double-hinged motor to minimize vibration and prolong lifespan of the machine.
For enhanced precision and efficiency, the height and depth of the upper and lower molds is adjusted automatically, with three off-mold modes, continuous puff, intermittent puff and mold-vibrating puff, for handling different products and tasks. With computer-human interface, the machine, suitable for PSP, PS, PP, PVC, ABS, PET, etc., can memorize up to 180 sets of conditions and various parameters for mold forming.
The micro-computer continuous vacuum shaping machine (chain-style) also has lots of features to facilitate production of packaging and packing materials, including a ceramic heating device for faster heating and lower power consumption; the computer-processed feeding for finer precision of feeding length and easy adjustment; and clamp-based feeding mechanism to better allow production of various materials ranging from 0.1mm to 1.5mm in thickness.
Micro Computer-controlled Vacuum Forming MachineEver since founded in 1979 in Taichung City, central Taiwan, Hanyamn Joung has focused on developing and manufacturing vacuum forming machines, having built solid reputation among buyers worldwide as a veteran supplier of microcomputer-controlled models.
With factories in Taiwan and China, the ISO-9001-certified manufacturer supplies a variety of vacuum forming machines, dunk shell packers and shrink packing machines, hydraulic cutting machines, four-column type plane hydraulic cutting machines etc., for packing electronic trays and components and hardware, as well as manufacturing plastic cups, lunch boxes, dinner plates, tool boxes, planters, safety helmets and so forth.
After decades of development, the company has marketed its machines, mostly under its Hann Rong brand, to China, Indonesia, India, the Philippines, Singapore, Vietnam, Thailand, Malaysia, Iran, and Kazakhstan.
Source:
http://www.cens.com/cens/html/en/news/news_inner_47037.html