China's Ministry of Commerce held a video conference to implement the plan jointly formulated by eight ministries and departments, including the Ministry of Commerce, for promoting the development of the silk industry.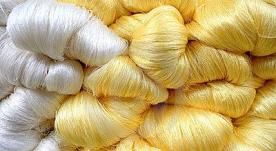 The meeting, attended by Vice Minister of Commerce Fang Aiqing, discussed the overall plan to strengthen the development and implementation of standards, and strengthening operational monitoring and guidance, improving market regulation mechanism and reserves management, and increasing promotion and publicity of silk.

Under the joint efforts of the relevant departments and officials, China's cocoon silk industry has steadily expanded the scale of development, and silk consumption continues to increase, and a good foundation has been laid for further deepening the reform of silk cocoon industry, the meeting was told.

Fang Aiqing said for further promoting the healthy development of the Chinese silk industry, it is necessary to take important strategic initiatives, and also to promote the "new countryside" construction, increasing consumption, promoting foreign cultural and economic exchanges, and taking effective measures for harmonious development between man and nature.

Fang Aiqing identified five tasks as the next priority for further promoting the healthy development of the Chinese silk industry. First, is to promote the development of industrial clusters, focusing on optimizing the industrial layout. It includes development of silk design and development centre in the eastern region, thereby promoting it as a production and trade base. In the mid-west region, which leads in silkworm production and processing, the focus will be on further improvement and optimization of the industrial chain for further stable development of basic silk industries.

The second priority is to deepen scientific research on silk, and improve its production and technological level, and build a new innovative system that is business and market-oriented. It would include focusing on the advantages of resources to overcome the key generic technologies.

The third priority would have marketing model innovation and "going out" strategy as the starting point, for increasing domestic consumption of silk. It would involve optimization and innovative business marketing model, accelerating the technological transformation of traditional marketing with modern information networks and logistics systems, and encouraging competitive enterprises to consolidate the traditional export markets, while developing new markets.
The fourth priority would be to protection and development of traditional silk craft, by building a silk culture-themed museum, Mall neighborhood, Creative Park and Ecological Park, to enhance the cultural value of the silk industry. It would also include active implementation of strategy for internationalization of trademark.
The last priority would have implementation and development of international standards as the starting point, and would be focused on promoting international exchanges. It would involve strengthening communication and cooperation with international standards organizations, actively participating in international standard-setting for new silk, and accelerating the establishment and improvement of the system in line with international safety standards and mandatory requirements, and enhancing the international status of China's cocoon silk industry.
Source:
http://www.fibre2fashion.com/news/textile-news/newsdetails.aspx?news_id=157802