Packaging provider Greiner Packaging International has designed new resealable barrier packaging for meat and fish paté brand Patelina.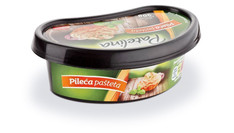 Said to be developed for Southeastern Europe markets, the new packaging allows Patelina meat and fish patés to be offered in stylish cups that are resealable.
The new barrier packaging, which is about 90g of weight, provides protection against oxidation and avoids the drying out of contents inside.
Greiner has used modern plastic material combinations as well as well-engineered production technology in the manufacturing of the new packaging.
The company has manufactured cups by using thermoform technology, while lids are produced through a process known as injection molding.
Greiner Packaging International division K head Kenneth Boldog said the new packaging solution sets new standards in Serbia, Bosnia-Herzegovina, Montenegro and Macedonia.
"Previously, Patelina meat and fish patés were packaged in aluminum containers or cans. They had to be consumed very soon after opening the packaging. Our new packaging makes it possible to reseal, preserve, and enjoy it in several stages," Boldog added.
Serbian brand Neoplanta produces Patelina meat and fish patés products, which comprise eight varieties such as ham, salmon, liver, chicken, chicken with herbs, turkey, tuna, and tuna with corn.
The brand produces 85 different deli products, and is part of Nelt since 2007.
European packaging producer Greiner Packaging International offers solutions in the areas of development, design, production and decoration and has network in all regions of Europe.
Source:
http://sustainablepackaging.packaging-business-review.com/news/greiner-designs-new-barrier-packaging-for-meat-and-fish-pt-brand-210714-4322236