A Pakistan parliamentary panel has recommended the Trading Corporation of Pakistan (TCP) to buy seed cotton instead of lint to protect cotton farmers as it was unable to fix the minimum cotton price.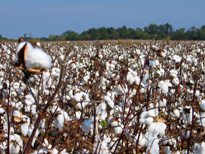 This was done in line with the procurement policy adopted by the Indian government which through the Cotton Corporation of India (CCI) buys seed cotton from growers.
During a meeting of the National Assembly Standing Committee on Textile Industry, it was told that surplus cotton output was recorded last season in global as well as Pakistan, with a repeat expected in the new season too.
According to Pakistan media reports, the meeting was also told that with cotton being surplus in the new season too, rise in cotton prices are not expected for the new season also.
The government will also not be able to offer subsidies as it is facing a financial crunch, although WTO rules permit subsidies up to Rs 300 billion to the agricultural sector.
So, the Committee accepted the proposal put forth by Kanwar Usman, director research and development (RDA) cell of the textile ministry to recommend buying of seed cotton by TCP.
Source:
http://www.fibre2fashion.com/news/textile-news/newsdetails.aspx?news_id=171790