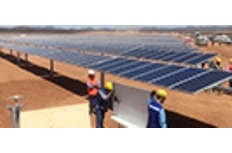 Alex Hinojosa, Deputy Managing Director of the North American Development Bank (NADB), was joined by the Governor of Chihuahua as the first of 52,000 solar panels was installed in the Los Santos I solar park in Moctezuma, Chihuahua. Upon completion the 13.6-megawatt (MWAC) solar plant will supply electricity to private off-takers through a 20-year power purchase agreement.
Other on hand to witness the event included representatives from the Border Environmental Cooperation Commission (BECC), the Overseas Private Investment Corporation (OPIC), Buenavista Renewables (BVR), Leoni Cable, S.A. de C.V., and the La Salle educational network, among others.
The $40 million solar plant, which is being built with financing from NADB and OPIC, was certified by BECC in April 2015. The electricity generated will be purchased by La Salle for its northern district of educational institutions in Chihuahua, Coahuila, Durango, Jalisco, Nuevo Leon, Sonora and Tamaulipas, as well as by Leoni Cable, a German company and leader in the production of cables and cable systems with factories in the states of Chihuahua, Durango, Sonora and Guanajuato.
"We congratulate La Salle and Leoni on their use of renewable energy to power their facilities," commented Mr. Hinojosa. "We are pleased to have participated in the financing of this solar project, a pioneer in energy sales for the private sector, which we hope will serve as an example for other companies that may wish to take advantage of the abundant solar energy in Chihuahua."
Los Santos I is the first phase of a multi-stage project envisaged to generate price-stable, long-term renewable energy in Chihuahua, one of the most solar rich states in northern Mexico.
This phase of the project developed by BVR consists of 52,000 photovoltaic panels and will help La Salle's northern district and Leoni Cable comply with the clean energy mandate established under the recent Mexican Power Industry Law by sourcing their energy from renewables. More importantly, both La Salle and Leoni will contribute to the well-being of the planet through the displacement of more than 16,500 metric tons/year of carbon dioxide (CO2) and 57 metric tons/year of nitrogen oxides (NOx), which is equal to removing almost 3,476 vehicles from the road each year or supplying electricity to 8,838 homes.
"This state-of-the-art photovoltaic project represents a major step forward for the state of Chihuahua in its efforts to mitigate the potential effects of climate change," stated Maria Elena Giner, BECC General Manager.
NADB is a financial institution established and capitalized in equal parts by the United States and Mexico for the purpose of financing environmental infrastructure projects along their common border. As a pioneer institution in its field, the Bank is working to develop environmentally and financially sustainable projects with broad community support in a framework of close cooperation and coordination between Mexico and the United States.
BECC is an international organization established by the governments of the United States and Mexico that works to preserve, protect and enhance human health and the environment of the U.S.-Mexico border region, by strengthening cooperation among interested parties and supporting sustainable projects through a transparent bi-national process in close coordination with NADB, federal, state and local agencies, the private sector and civil society.
Source:
http://www.yourgeneratornews.com/news_item.php?newsID=38963