Automakers routinely loan vehicles to media outlets for evaluation, leaving magazines, newspapers, and websites trusting that the cars are production representative. It turns out, so-called press cars can vary, as can their test results.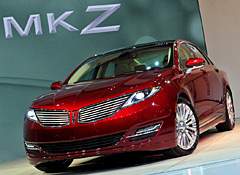 Auto-information site Edmunds.com recently found that a borrowed 2013 Lincoln MKZ was equipped with high-performance tires and accused the company of gaming the media with their test car. The fitted Michelin Pilot Super Sport summer tires (245/40ZR19) are more typically found on super-expensive exotica like the BMW M5 and Ferrari 599, not $45,000 luxury sedans.
With those tires, rather than the standard, efficiency-biased Michelin Primacy MXM4 (245/45R18) tires, the MKZ went through their slalom just 1 mph slower than a Porsche 911 and quicker than a BMW M5.
Fortunately, super-sticky tires are easy to spot. But what if a manufacturer tries to trick the media? It's not hard to tweak spring rates and shocks, crank up turbocharger boost, or add in some more noise insulation. Such discrete modifications may have been omitted on production models due to cost, fuel economy, or reliability--concerns that don't matter much in the short life of a press fleet car whose job is to make a positive impression on the media and its readership.
Cases like this are not unique. We have experienced cars from manufacturers that perform better than the vehicles that we end up purchasing to test. Even government agencies are not exempt from this, as car manufacturers select vehicles that they test themselves in the EPA fuel economy tests.
This is why at Consumer Reports we buy every product that we test. While we do tell you our first impressions of press cars before they go on sale (we pay to rent them), we only formally test and score cars that we purchase anonymously.
We commend Edmunds for reporting this--and we look forward to buying a more representative example of the Lincoln MKZ, just like the one consumers will, to see how it fares in our full battery of tests.
Source:
http://news.consumerreports.org/cars/2012/12/edmunds-accuses-ford-of-tricky-tire-switching-with-their-lincoln-mkz-test-car.html#comments