W San Francisco unveiled Lumina, a vibrant and otherworldly light sculpture towering at 27 feet, inside the hotel's three-story entrance at the corner of 3rd and Howard streets. A commanding, lustrous mass reminiscent of cosmic star clouds, bioluminescent jellyfish and the brain's neural networks, the sculpture emanates an overarching sense of mystery as its translucent fiberglass and fiber optic strands draw W San Francisco guests to its vibrant core.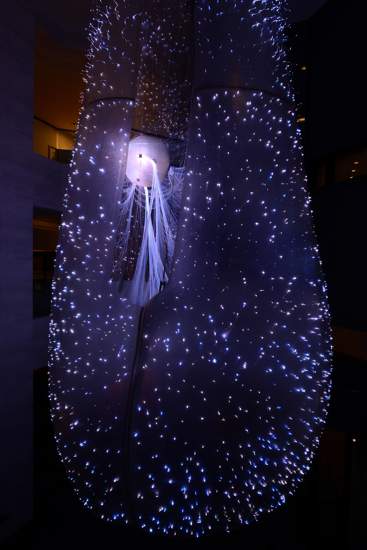 Lumina was created by MADLAB the design studio. (All Photo Courtesy of MADLAB)
"At W San Francisco, we continue to look for innovative ways to showcase our passion for design with our local and visiting guests," said Roger Huldi, General Manager of W San Francisco. "Lumina stands as a radiant beacon of W San Francisco's signature style in our design-centric SOMA neighborhood."
Lumina was created by award-winning design studio MADLAB, which considered what unique experiences could be perceived from every angle of the tall hexagonal space that was set to house the sculpture, from the moment guests walk through the revolving doors and look up, to those gazing from the Living Room Bar and TRACE restaurant, to those peering down from the upper mezzanines. These multiple vantage points informed the extraordinary shape – cavernous and engulfing from beneath, elongated and pod-like from above.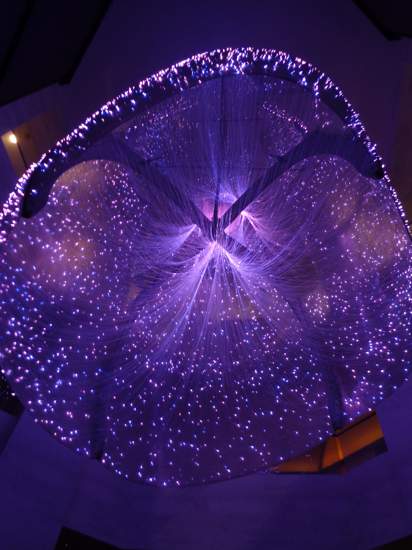 The light sculpture is 15 feet wide and has more than 7,000 fiber optics strands that creates intirguing glow.
Hand casted using clear surfboard resin and body glitter to achieve a luminous sheen, the large sheaths seam together to create a 15-feet-wide inner chamber, through which more than 7,000 fiber optic strands were carefully threaded and hand knotted before cascading the full length of the sculpture's interior, forming a luscious drapery of glistening light at the sculpture's angled base. A staggering 22 miles of fiber optic strands were handled, enough cable to stretch across the Golden Gate Bridge 13 times.
Lighting the sculpture are four energy-efficient LED Luminators, all of which are housed inside a large translucent globe. An endless array of light and color effects are possible through a wireless 54-channel DMX panel, allowing for sophisticated audio and video synchronization, as well as other sensor-controlled inputs such as temperature, humidity, and ambient sounds.
Source:
http://www.ledinside.com/lighting/2015/11/inspiring_light_sculpture_showcase_at_w_san_francisco