CAD/CAM developers are going to be a force to reckon with at the upcoming Texprocess 2015 trade fair which runs from May 4-7, 2015, the organisers, Messe Frankfurt say.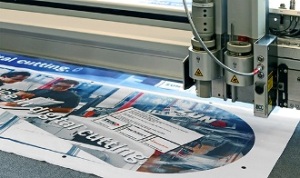 The segment has diversified into new growth markets away from the conventional industries towards technical textiles, functional apparel textiles, leather and other flat material.
The offered concepts do not provide for single components but for comprehensive applications offering full integrability into the production environment.
Almost every provider is offering solutions for the automatic cutting of continuously repeating patterned fabrics, applications which can have large savings potential.
As far as the cutting systems are concerned, mechanical knife-cutters provided with interchangeable tools, depending on the type of the system are dominating the section.
Expert Systemtechnik GmbH presents its minijet three-dimensional cutter allowing interpolation in three linear and two rotational axes and which is targeted on prototyping and small lot production.
Besides cutting of technical textiles it is especially suited for cutting high-volume flat material that is used for forming cones and pyramids or for producing chamfered cuts.
Gerber Technology will show its universal CAD/CAM product line-up at the Texprocess trade fair including many fair novelties which are concentrated on the clothing industry.
One novelty is the integration of an own trend-setting CAD three-dimensional module into the Accumark V 10.0 design which allows the users to cover the entire value chain of a fashion idea in the form of an image.
With regards to CAD, the segment heralds the methodical paradigm shift by means of comprehensive further development of construction and modification modules.
At Texprocess 2015, Swiss manufacturer Zünd will present their single-layer cutters G3 and S3 provided with large tooling equipment for a nearly endless material spectrum.
Zund will show a wide variety of items, however it will prioritise the range of cutting technical textiles and flat products at the Texprocess and Techtextil trade fairs.
Bullmer will present at the Texprocess trade fair two production lines with material feeding which cover the areas of single-layer cutting, low-layer cutting and high- layer cutting.
Source:
http://www.fibre2fashion.com/news/textile-news/newsdetails.aspx?news_id=170517