LINCOLNTON, N.C. --- Just over a year ago Bruce Cochrane realized a long-term dream to reopen a case goods factory in the area where his family had done business since 1850.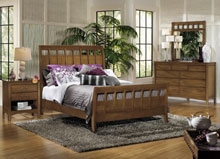 Lincolnton Furniture's product line included the Lincoln Forest bedroom in solid maple, which was available in five wood stains and six colors.
That dream appeared to have ended this week when the company announced it was closing its doors, a move that is expected to displace about 50 workers.
The Charlotte Observer and other local media outlets reported Thursday that the company was closing its plant, which began shipping earlier this year. The 310,000-square-foot facility, a former Cochrane Furniture plant, reopened in late 2011, producing a line of upper middle priced solid wood bedroom and dining room furniture.
Company CEO Bruce Cochrane was not immediately available for comment. He told local TV stations that the need for capital for such a venture is constant and that the money ultimately dried up. In those interviews, he said a variety of unexpected costs "made it impossible to stay in business."
In a late 2012 interview with Furniture/Today, Cochrane told the paper that the year had presented challenges but that he believed the company had a good manufacturing process that could serve as a footprint for domestic production. One of the biggest transitions the company made during the year was to establish a water-based finishing system, he said.
He told WSOC TV of Charlotte that he is looking to sell the company or combine it with another, which could lead to some of the workers being rehired.
"The water based finishing technology was a lot more difficult to execute than I thought it would be," he said in December. "A lot of what we did was by trial and error, but we learned a lot about the techniques and applications, and the differences between petroleum and water-based chemicals were significant."
Cochrane said the company also dealt with challenges involving the construction of pieces such as drawers that use self-close versus wood-on-wood guides. It also was training employees to program manufacturing equipment to make furniture components.
"Programming was a big issue - it is time consuming," he said. We have to program every single part for every single piece of furniture so that they are the same every time.... There are not a lot of people that do that. We are training people to program."
The news of the closing comes about a year after Cochrane received a significant amount of publicity and public accolades about his new furniture manufacturing venture.
Cochrane sat next to Michelle Obama during the president's State of the Union address in 2012 and also was invited to speak with the president and various business leaders about bringing back jobs to the U.S. from overseas. In November, North Carolina Gov. Bev Perdue presented the company an award for workforce development, WSOC T reported.
The company produced solid wood bedrooms that retailed from $3,900 to $5,500 for four pieces. When the venture was first announced in 2011, Cochrane had hoped to employ as many as 130, but said that the company never hired many more than the 55 that it employed in early December.
Source:
http://www.furnituretoday.com/article/558745-U_S_case_goods_maker_Lincolnton_Furniture_closing.php