The LEDiL Strada 1×6 reflector optic module targets SSL street-light applications using Osram Oslon Square LEDs and delivers a Type III beam pattern.
Finnish optics specialist LEDiL Oy has announced the C13140_STRADA-T-6X1-DWC lens array that specifically supports the Oslon Square LEDs from Osram Opto Semiconductors and that targets street-light applications. The 1×6 linear optic can support Illuminating Engineering Society (IES) Type III and European ME3a beam patterns using total-internal reflection (TIR) to control the distribution.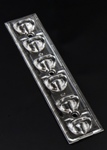 LEDiL says that the optic is a good fit for luminaires designed for residential streets, urban boulevards, and collector roadways. The optic can support pole-height-to-spacing ratios of 1:4.5 and higher.
The TIR optic generates a wide asymmetric beam that focuses light on the roadway from poles mounted on the side of the roadway and generates very little backlight (See "SSL luminaires must deliver reliable beam patterns in outdoor applications" for more information on beam patterns). The design delivers peak candelas over a 70° spread.
The lens is molded from optical-grade polymethyl methacrylate (PMMA) rated for use over a temperature range of -40°C to 100°C. LEDiL says that the optic is "virtually impervious to UV damage" and that it has high transmission efficiency.
LEDiL developed the array because the one-piece design simplifies luminaire mechanical design and manufacturing relative to a product design that uses individual TIR lenses. Still, many street lights need more than six LEDS. And LEDiL says that you can configure multiple optics end to end or in parallel to support more LEDs deliver the required lumen output.
About the Author Maury Wright is the Editor of LEDs Magazine.
Source:
http://ledsmagazine.com/news/9/12/19