Micropacemaker is but another example of the how the trend of miniaturization is gaining momentum in healthcare.
As medical devices become tinier, they may help the tiniest patients.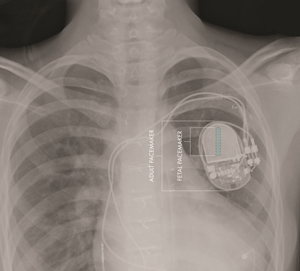 The FDA has given humanitarian approval to the first fully implantable fetal micropacemaker, developed by researchers at Children's Hospital Los Angeles and the University of Southern California, according to a hospital news release.
The team reported its preclinical testing and optimization research in a recent issue of the journal Heart Rhythm.
The research team designed the tiny pacemaker to help fetuses with complete heart block. Each year, this condition affects approximately 500 pregnancies in the United States, greatly slowing the heart rate of a fetus, affecting the heart's ability to pump blood.
Efforts using adult-sized pacemakers to treat fetal heart block have failed, according to Yaniv Bar-Cohen, MD, of Children's in L.A. Only part of an adult-sized pacemaker can be implanted in a fetus, with the rest external. The researchers believe that fetal movement likely dislodges the electrodes of the adult-sized pacemaker from the heart.
USC's experience with microfabrication techniques allowed the researchers to develop a pacemaker small enough to be fully implantable in a fetus, according to Gerald E. Loeb, MD, a professor of bioengineering at the university. The new device may prevent miscarriage and premature birth, Ramen M. Chmait, MD, director of CHLA-USC Institute for Maternal-Fetal Health, said in the release.
The shrinking size of technology is fueling an array of advances that could transform the field of cardiology. Innovators are working on everything from nanosensors that could detect heart attacks before they happen, to pill-sized leadless pacemakers.
Medtech companies are also using miniaturization to develop tiny artificial muscles, cancer-fighting nanohydrogels, surgical cameras, and magnetic nanoparticles to destroy blood clots and ferry medication across the blood-brain barrier.
The researchers who developed the fetal pacemaker anticipate the first human use of the device in the near future.
Source:
http://www.qmed.com/news/check-out-tiny-pacemaker-fetuses