The world's largest consumer tech show last week was mostly about new ultra-high-definition TVs, with four times the pixel resolution of current 1080p HDTV, notebooks, phones, wireless headphones and speakers and thousands of accessory items - but the consumer car technology offering at CES was prominent also.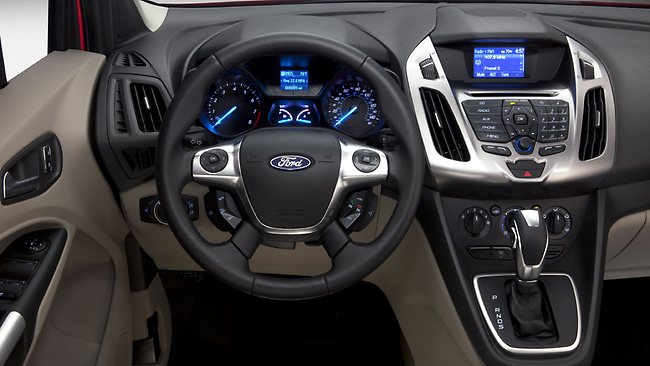 Internet-connected car information and entertainment systems, inbuilt 4G LTE internal car Wi-Fi, devices for accessing your car's computer and wireless charging of electric vehicles from the road were among technologies on show.
New infotainment systems by General Motors and Ford involve linking a user's smartphone to the car's information and entertainment system, and using car-specific apps to drag information and media from the internet through the phone for use in the car.
Internet music feeds such as Pandora radio, where a user goes online to create vast numbers of playlists, are streamed from the phone to the car audio system. On a long country trip, apps on a phone relayed to the car could tell you where the next petrol station is, help you order a meal or coffee ahead of arriving, read out your emails using synthesised voice, and use voice to dial and make calls, although this latter feature has been available for years via Bluetooth and GPS.
GALLERY: Gadgets at the CES show
Drivers activate the apps typically in three ways using buttons on the steering wheel or dash, voice commands or via the car's touchscreen display.
Ford's revamped MyFord Touch apps system, initially plagued by bugs and user complaints, has been revamped.
Demonstrated at CES in a 2013 Ford Escape, the system uses developer-tailored apps approved by Ford. They could be a specialised navigation app that extends the functionality of a GPS, an app that locates coffee, an ATM or bank. A user can then ask the car for directions, and call ahead to place an order.
GALLERY: Detroit motor show
There are at least three advantages of a third-party app developed system.
First, there's flexibility, with users choosing the apps they want on their car; second, different apps can be written to work in different countries, referencing the specific brand names, shops and services available there. Third, Ford gets to abrogate responsibility for writing apps to developers, limiting its role to quality control and oversight.
An advanced version we saw in a Ford Focus 2013 offered a much larger screen and included voice control of entertainment, navigation, climate control and call management, each on a dedicated screen, as well as app access. It uses Apple's Siri to interpret voice commands.
As smartphone users know, voice command systems are not particularly accurate and sometime slow to respond. That's OK if their use is limited to non-critical roles such as choosing a radio station, but outright dangerous if extended to critical car control functions. Thankfully, Ford and GM haven't crossed that line.
We also experienced GM's latest MyLink radio offering in a 2014 Chevrolet Impala. The system will roll out to GM models generally.
A driver can customise the menu of apps that display on screen. Audio, weather, Pandora music, navigation and phone functions are typical choices. Again, the GM version streams content by grabbing it from the internet through a phone. A swipe of the screen will display current infotainment functions next to the speedo directly in front of the driver.
At CES last week, General Motors released an SDK (software development kit) so that app developers can increase the system's functionality. With the Impala system still in the future, GM also demonstrated a more imminent system in its 2013 Chevrolet Sonic. Drivers download a $US50 ($47) app to their phone and its screen is relayed to the car's display. Apps such as TuneIn radio can stream terrestrial stations across the world through a phone to the car's speakers.
There was more at CES than inbuilt car infotainment systems. Toyota showcased its driverless Lexus sedan, a project it began in 2008. Given the plethora of sensors on the front bumper bar and roof, including multiple GPS sensors and HD cameras, it's purely aspirational. Even Toyota admits a production model is not on the radar - it's purely for researching ways to assist driving as a "co-pilot". This includes "advance pre-collision" rolled out in the 2013 Lexus L S 46. Nor is Google out to give its driverless technology a high profile at this time.
CES did, however, include dozens of vendors showcasing and selling car bracket-holders for LCD screens, mostly mounted at the backs of seats, and car-chargeable Wi-Fi storage systems.
All are already in the Australian market, such as Kingston's Wi-Drive and internet-addressable network storage systems by Western Digital and Seagate. There are Wi-Fi routers that mount inside a car with storage for a plethora of media such as movies that passengers can watch on their tablet device or phone.
Some systems offer internet independently from a phone, such as BMW's new 4G LTE wireless adaptor that has fast 4G connectivity to any phone inside the car. It includes a code system to prevent nearby cars from leaching the Wi-Fi connection, and uses Near Field Communication to simplify the process of connecting phones to the system.
But you need to maintain a separate SIM card and cellular account to make use of it. In Australia, this can be expensive.
In the US, however, it is becoming possible to take out a special mobile account that is designed to monitor a series of connected devices, say up to 10.
Delphi Automotive demonstrated a device that uses such an account. It plugs into a car's OBDII (on board diagnostic) and offers drivers access to a car's computer functions normally available only to mechanics.
And it offers access from hundreds of kilometres away. Drivers can remotely lock or unlock their cars even from afar, perform remote starts, and it displays a car's location.
It notifies the owner when the car crosses preset geo-fences and will explain in understandable English what a current engine diagnostic code means, and the action needed.
An especially equipped electric motor Rolls-Royce was flown to CES to demonstrate wireless charging, using the same inductive charging technique used with electric toothbrushes and more recently with some smartphones such as Nokia's latest Lumix range.
With wireless electric vehicle charging, a car is parked over a special mat that transfers power to the car's battery without any electric cables.
Qualcomm Halo, which is promoting the system, says kilowatts of power can be transferred over an air gap of hundreds of millimetres while maintaining high-energy transfer efficiency.
And vehicles in future may not need to be stationary. Qualcomm Halo says that in future a series of matts embedded in the road could charge the electric vehicles travelling over them. Batteries could be smaller and electric vehicles lighter and cheaper as a result. It sounds pie-in-the-sky, but Qualcomm Halo is seriously promoting the idea.
Source:
http://www.theaustralian.com.au/australian-it/consumer-electronics-show/car-gadgetry-harnesses-the-smartphone/story-fnbupmbs-1226555358604