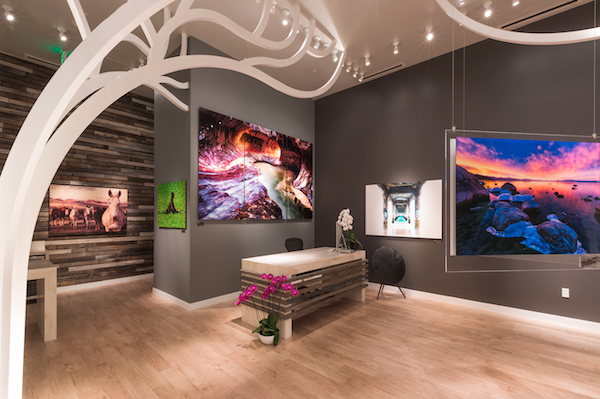 The new Andrei Duman Gallery was lit up with LED lights from Soraa that illuminate and show accurate color of artworks. (Soraa/LEDinside)
Soraa, the world leader in GaN on GaN™ LED technology, announced that its LED lamps have been installed at the new Andrei Duman Gallery in the high end mall—Westfield Topanga outside Los Angeles. Soraa LED lights redefines gallery design by illuminating differentiated space with no clear boundaries and also perfectly illuminates the award-winning images from the accomplished aerial, travel and nature photographer.
For Duman, lighting his work in the gallery, which opened in Fall 2015, was an important consideration—colors had to be rendered exactly. Light is a critical element in capturing images—and it's critical to the accurate display of color in art photography. In addition, the innovative design of the gallery required lighting that could be carefully controlled to accentuate the space and also be used to illuminate precise points on the artwork. Duman and his lighting designer insisted upon Soraa LEDs to illuminate his intimate 1,500 sq. ft. gallery and the "display trees," from which 12 double-sided images in glass frames hang and appear to float in the air.
"Great photography deserves great lighting. Colors must pop—and Soraa's lamps are simply perfect," said Andrei Duman. "With Soraa LEDs, I could bring out the true green and the detail that is important in my image 'The Ghost Door' shot in a diamond mining town in Namibia. Lighting also sets the mood in the gallery and helps the customer connect to the image. I strongly recommend that my customers use Soraa LEDs to illuminate the images they choose."
Soraa LED lights also help to create a mood that enhances the customer experience, allowing them to connect to the image. That's because of the lights beam and color rendering.
Soraa's unique GaN on GaN™ technology allows its LEDs to operate at currents that are more than five times higher than LEDs built on other materials. This means a lot of light comes from a very small source, resulting in a narrow beam that can be controlled to crisply illuminate any area with a single shadow.
Duman's images are illuminated for perfect rendering of colors and whiteness because of Soraa's Violet-Emission 3-Phosphor (VP) LED technology. Utilizing every color in the rainbow, especially deep red emission, Soraa's lamps render warm tones beautifully and accurately, and achieve a color-rendering index (CRI) of 95 and deep red (R9) rendering of 95. And unlike blue-based white LEDs without any violet emission, the company's lamps have violet emissions to properly excite fluorescing brightening agents, including paper and natural objects like human eyes and teeth.
Source:
http://www.ledinside.com/lighting/2015/12/led_lighting_from_sorraa_illuminates_new_andrei_duman_gallery