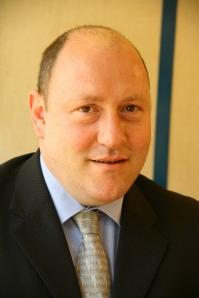 Thierry Vasseur, Regional Sales Director, Zebra Technologies
1. What are your company's key products and services?
Zebra Technologies offers technologies that give a digital voice to an organisation's assets, people and transactions, enabling organisations to unlock greater business value. The company's extensive portfolio of marking and printing technologies, including RFID and real-time location solutions, illuminates mission-critical information to help customers take smarter business actions.
2. Which product lines and services will it focus on at GITEX?
Zebra will be showcasing a range of recent and existing product and solutions at our stand in Hall 3 A3-20 at GITEX. These include:
Zebra QLn220 mobile printer series – designed specifically for retail applications such as shelf-edge, price and return labelling. It offers the ability to print right-to-left, giving companies around the world the option to print in many languages.
Zebra ZT200 tabletop printers series – designed for light industrial and commercial applications, the printer helps limit ownership costs and maximises printer uptime because it is easy to connect to the network and maintain.
Zebra GC420 desktop printer series – designed to offer productivity enhancements essential for small to mid-size manufacturers, transportation and logistics businesses as well as retail, healthcare and post. The Zebra GC420 offers the flexibility to print in either thermal transfer or direct thermal mode. Additionally, it offers powerful performance and throughput with a 32-bit processor, co-resident EPL™ and ZPL™ programming languages and triple connectivity.
System Builder planning software tool – designed to assist in designing accurate and scalable Real Time Locating Systems (RTLS), enabling customers to save time and money. An industry first, System Builder provides customers with an easy-to-use tool that simplifies the planning and design process that helps determine proper placement of location sensors thereby eliminating improper designs, making it easier to track assets, increase productivity and drive efficiency.
Zebra ZE500 (under embargo until October) – Designed as the next generation of Zebra's print engine intended for use in a variety of high-volume, mission critical applications in the food and beverage, manufacturing and transportation and logistics industries, the complete print and apply application is ideal for use in technically demanding environments to increase production and improve operational efficiencies.
3. What benefits do your products and services bring to regional customers?
Zebra has consistently performed well in the Middle East showing noticeable growth in recent years. We work with a broad range of customers across different vertical sectors including retail, healthcare, manufacturing, government, hospitality, transport and logistics.
At Zebra, we believe that if a business can see more, they can do more. Depending on your business needs, we can offer a range of specialised asset tracking products and solutions to suit different verticals markets and business situations.
4. Why is your company exhibiting at GITEX Technology Week?
We are very excited to showcase our new range of printing products and location solutions to businesses in the Middle East. Over the past few years, we have put in a lot of effort and investment in our innovations to make sure we keep up to date to meet the changing customer requirements.
With businesses now operating in the digital space, they require the right technology platforms and systems that support their physical assets, and allow critical data to be more readily available anywhere, any time.
Zebra can help businesses achieve their goals, by providing the systems and processes in place to meet business needs quick and easily, whether it is price change labelling in a retail store, tracking blood samples and patient details in a hospital, or ensuring the safe and timely delivery of mechanical parts during the assembly of a new vehicle.
5. What does your company hope to achieve by appearing at GITEX Technology Week?
Zebra has been exhibiting at GITEX for a number of years and our experience has been very positive. This is a great opportunity for us to meet with our existing and new partners and customers at the show.
We see a lot of potential in the Middle East region and have invested a significant amount of resource to grow our team here as part our EMEA business strategy. This is a good chance to us to introduce the team to the market and explore new opportunities.
With a stronger team structure, we now offer an improved customer experience and with dedicated personnel who work with our partners and customers by country, by vertical across the whole region to deliver a more personalised and tailored approach.
6. What are your company's main recent achievements in the Middle East market?
We have achieved strong growth in the Middle East region over the past year, building on continued and new opportunities in key vertical sectors including retail, government, healthcare, transport and logistics. We have dedicated personnel covering each of the key markets and have seen more customer wins across the region as a result of this more personalised approach.
Source:
http://www.cnmeonline.com/news/zebra-technology-gitex-preview/