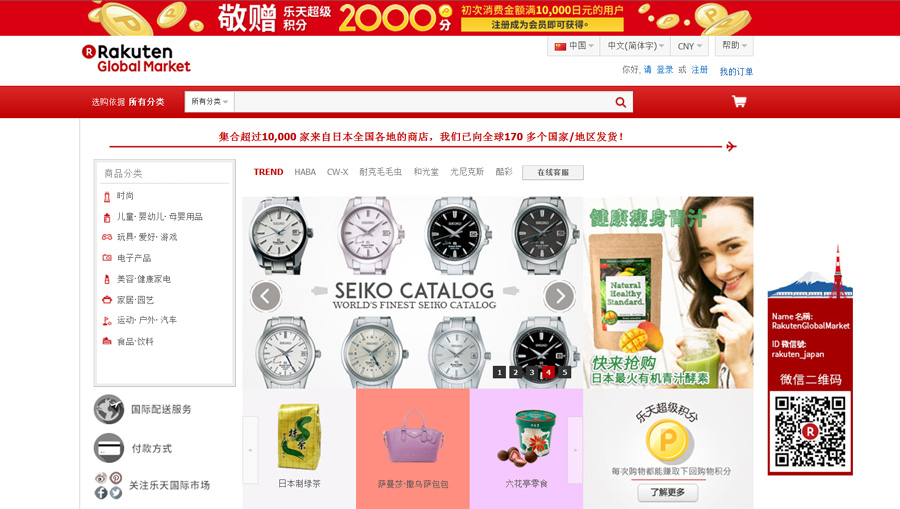 A screen shot of Rakuten online store. [Photo: global.rakuten.com]
Rakuten, Japan's e-commerce market leader, and JD.com, China's leading direct online sales company, on Wednesday announced the signing of an agreement to establish a Rakuten online flagship store on JD Worldwide, JD.com's cross-border platform.
Rakuten launched a beta version of a new online marketplace on JD Worldwide this month. Plans are underway to expand the merchandise range over time, with an initial focus on categories such as cosmetics, snacks and health food products, said Rakuten in a release.
"The new partnership between Rakuten and JD.com will promote cross-border trade by connecting Chinese consumers with authentic and popular Japanese products from a top selection of Rakuten's merchants from around Japan, both small and large. Rakuten will continue to work to expand our offering to Chinese consumers," said Masato Takahashi, managing executive officer of Rakuten.
"This cooperation with Rakuten continues to expand our offer of authentic and high-quality imported Japanese products, which have proven very popular," said Haoyu Shen, CEO of JD Mall. "Our focus remains on partnering with the most trusted retailers in key overseas markets to meet the growing demand for premium imported products."
Expansion of the product line-up will continue over the coming months, said Rakuten.
Founded in 1997, Rakuten is headquartered in Tokyo, with over 12,000 employees worldwide. As one of the world's leading internet services companies, Rakuten offers a wide variety of services with a focus on e-commerce, FinTech, and digital content. Since 2012, Rakuten has been ranked among the world's "Top 20 Most Innovative Companies" in Forbes magazine's annual list.
JD.com operated seven fulfillment centers and a total of 166 warehouses in 44 cities, and in total 4,142 delivery stations and pickup stations in 2,043 counties and districts across China, staffed by its own employees. JD.com is a member of the NASDAQ100.
Source:
http://english.cri.cn/12394/2015/12/16/4182s908619.htm