Zero cure time is required in a new lamination development unveiled by HP Indigo, enabling flexible packaging converters to benefit from the fast speed to market offered by digital printing, even for retort pouches.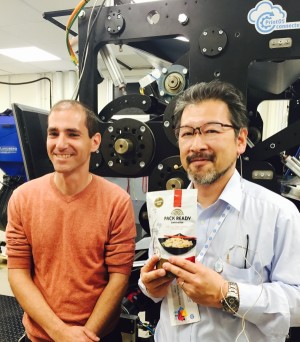 HP Indigo Pack Ready Lamination is the new 'ecosystem' unveiled by HP Indigo in its pre-Drupa product launches at its headquarters in Israel last week, marking a step change in the delivery time to market for printed flexible packaging.
At the launch, the Pack Ready Laminator prototype was demonstrated connected in line to a tna Robag 3ci form-fill-seal (FFS) pouch making unit.
On hand to demonstrate the technology was Mach Machikawa, Flexible Packaging segment manager for HP Indigo worldwide.
Machikawa started by explaining the importance of lamination process in flexible film production (enabling the combination of film layers with different functionality to ensure the integrity, barrier properties and printability of the flexible bag or pouch) and how, typically, the lamination process involves a lengthy cure time.
"Today mainstream flexible packaging lamination technology, such as solvent-based or solvent-free adhesive lamination requires coating; and coating requires curing time. Depending on the application curing time can be anywhere from a few days to over a week, and for high-end applications like retort pouches, up to ten days," Machikawa said.
This curing time requirement is what has prevented the full realisation of the speed to market advantage that digital printing can offer.
But now, Pack Ready Lamination technology changes everything. It requires zero cure time while achieving high laminate bonding performance.
Machikawa says the 'secret' lies with an IP-protected Pack Ready film (developed by HP Indigo's R&D project manager Dr Asaf Salant), which consists of a laminate film and Pack Ready 'smart resin' (thermoplastic). This film is combined/bonded with printed film (in this case printed on the HP Indigo 20000) and the two films pass through a corona treatment unit to enhance surface tension and then merge at the nip rolls to be bonded at a heat determined by the media substrate.
"We're talking about reconstructing our ink properties by this process at molecular level," Machikawa says
Because the resin is already in the film, no coating is required, so the process can be solvent free, and again, because there's no coating, there is no drying or curing process involved, which significantly reduces the energy requirement for the process.
According to Machikawa, it's also a very easy process for operators to learn (as opposed to the industrial expertise required for the usual lamination process).
HP Indigo has developed the technology as an enabler for its digital printing technology, particularly for the HP Indigo 20000, which has been upgraded to make it compatible with a range of new substrates to print on a wider range of flexible packaging materials.
So, in the case of the pouches pictured, PET film is printed on an HP Indigo 20000 press, and laminated by the HP Indigo Pack Ready Lamination system with Pack Ready film to create a PET/BOPA/PP pouch material which is then processed through a pouch-making FFS line, in this case the tna Robag 3ci.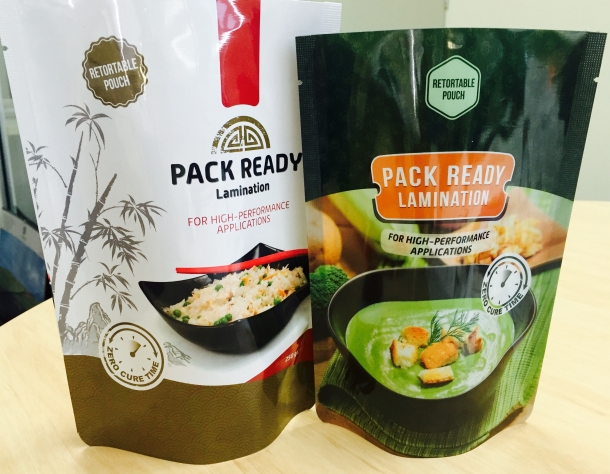 HP Indigo will be partnering with a machinery supplier to produce the lamination equipment, and with material suppliers to develop to develop the resin-based film.
The system is also designed to be PrintOS connected.
Source:
http://www.packagingnews.com.au/news/digital-fast-forward-for-flexible-pack-printing