Crowd-sourced brands are the 'hot young things' of industry. PKN spoke to Nexba's Drew Bilbe and Troy Douglas about a line of iced teas based on the feedback of Facebook fans, friends and street artists.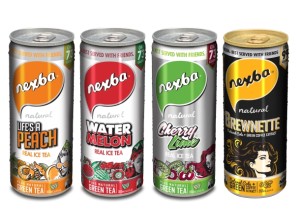 The idea for a brand of ice teas in stand-out packaging came to Drew Bilbe when he was holidaying in Rio Nexpa, Mexico.
He recalls the "vibrancy" of the drinks in that country.
"All the packaging was amazing and iced teas were massive," he says.
He learned that iced teas in Europe and America make up between 12 and 15 per cent of a growing market in which the dominant sector – soft drinks – is in decline. 'Unhealthy', high-calorie, high-sugar, soft drinks were being rejected by most target groups.
Bilbe called a mate, Troy Douglas, and the pair worked out a plan. Nexba would be a better-for-you lifestyle brand, producing natural, low-sugar, low-calorie, real iced teas, made sustainably. It would look, feel and taste like it belonged to a cool, young and hip market. Bilbe was 23 and a law student and Douglas was 20 at the time. The pair bought a factory in Sydney's north, and they chose to package in cans because PET didn't meet their criteria for sustainability. They had two supplier choices, and chose Orora.
"We started producing 2000 cans per hour. That's nothing compared to the big guys. Now we're producing 100,000," he relates.
"Running our own factory has been important. It has given us the hugest understanding and respect for the manufacturing process, what it takes and what is needed to service key accounts."
Nexba is, if you will, a crowd-sourced brand. The idea that "ideas can come from anywhere" is given free rein and used to develop most aspects of the brand.
Bilbe designed the cans but everyone at Nexba gave input. A Facebook fan suggested the name of the Life's a Peach variant. Another Facebook fan asked for an iced green coffee variant and that's how Brewnette was born. A friend, Emily Matthews, created the Nexba bubble logo. Street artist Alex Lehours created its illustrations. Graffiti artist Roberto Rivadeneira painted the office mural. Recipes are developed and tested by Nexba staffers. All marketing is carried out in social media, its reach expanded only by organic growth. Market research is achieved by asking questions on social media.
"People want to hear about and input into our brand, its products and its stories," Bilbe states.
"And they engage with us because we're the real people involved with the brand. They know we're not a bunch of content writers. That takes up a lot of manpower, but it's worth it."
Unspoken, but obvious when you listen to Bilbe's story, is his attention to detail. Bilbe is a walking encyclopedia of the beverage industry and behind every Nexba decision is a vast amount of discovery and consideration.
Nexba grew up in grab-and-go outlets and online, selling single cans. By October last year, it had become a significant player in Coles, IGA, Costco and Aldi, selling in four-packs. To service these chains, the brand will launch one-litre bottles this year. In keeping with its sustainability objectives, the company says, these will be glass. It now has two new product ranges in development, both expanding the brand beyond iced tea/coffee, one built around an innovative packaging and delivery concept.
Source:
http://www.packagingnews.com.au/news/start-up-iced-tea-brand-crowdsources-packaging-ideas