Cosmo Films has a growing interest in the Australian market, and its range of specialty films with barrier properties shows it has much to offer.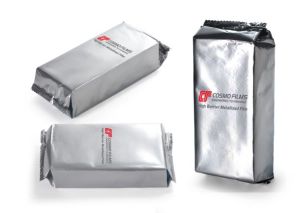 Barrier properties are increasingly important for packaged food products, and Cosmo Films is ready to respond. It offers multiple barrier products such as a high-barrier metallised BOPP film, generally used as part of a duplex/ triplex laminate structure with OPP/PET/PE. The film is also known for offering good lamination bond.
The end pack can be used for all food and personal care applications where moisture barrier is particularly important.
The film also offers optimum gas barrier properties and has good heat seal strength for pouching applications. It can be used for cold sealing as well.
Available in 12/15/18 microns, the film's metallisation offers superior anchorage with the film and the treated metallised surface may be used for printing.
CEO Pankaj Poddar said Cosmo Films was also working on a coated product with enhanced gas barrier properties.
In other news for the company, it recently announced Sandeep Dutta as president of its US operations. He will work on strengthening Cosmo's position in the North American market, and eight people will also be added to several different sales teams in the US.
The company has already invested $1 million towards capacity expansion and a facility upgrade at the Western Maryland Parkway site in Hagerstown which manufactures thermal lamination films in BOPP, PET and Nylon. Key products include scuff-free matte, linen, hi-tac for digital application and velvet films, with plans for rollout in other countries.
Cosmo also intends to sell part of its global range of products, including direct thermal film, synthetic paper, PSA application films and several other packaging films.
The company was established in 1981 and claims to be the largest exporter of BOPP films from India and the largest manufacturer of thermal lamination films in the world. The films make their way into flexible packaging, labels and the lamination industry.
For the complete story on Cosmo Films, turn to PKN's upcoming July-August print issue.
Source:
http://www.packagingnews.com.au/news/cosmo-films-taps-the-barrier-property-market