PGA Tour Superstore is launching a multi-faceted "Custom Fit Sweepstakes" campaign starring Rickie Fowler, one of the PGA Tour's rising young stars, and Lexi Thompson, the top-ranked American on the LPGA Tour, and Cobra Puma Golf.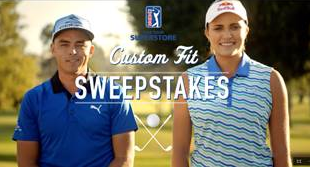 Golfers who visit a PGA Tour Superstore or visit online can take advantage of a free custom club fitting, enter for a chance to meet Fowler or Thompson at an upcoming PGA Tour event and win a complete set of custom fit clubs and a head-to-toe PUMA Golf apparel makeover, along with several other second prizes of free Cobra drivers. Fowler and Thompson are showcased in a fun and unique PGA Tour Superstore video entitled "Bad Ideas" which was unveiled this week and encourages golfers to socially share why they want to meet Rickie and Lexi.
The Custom Fit Sweepstakes, designed to encourage golfers to visit a PGA Tour Superstore for a free custom fitting, runs through the end of April.
"Rickie and Lexi appeal to golfers of all generations, but Millennials especially relate to their style and humor," said Dick Sullivan, president and CEO of PGA Tour Superstore. "Rickie and Lexi are sharing an important message: you can improve your golf game and getting custom fit can help. Both Rickie and Lexi bring energy and color to our sport and they make golf fun and interactive, which is what the PGA Tour Superstore brand is all about."
As part of the Custom Fit Sweepstakes, Fowler and Thompson will also appear in a national TV spot, engaging with an average duffer on the links. Thompson has her choice for her partner in their foursome and can either choose Rickie or "Bob" (the average golfer), and ends up choosing Bob because he was just recently custom fit for new golf clubs.
For more information on how to enter the contest for a chance to meet Rickie & Lexi, visit www.pgatoursuperstore.com/customfit. All consumers have to do is mention @pgatss on Twitter and use hashtag #customfit to tell why you want to meet them.
PGA Tour Superstore's Custom Fit Sweepstakes will also include in-store signage and integrated online video content shared by Fowler and Thompson, who are widely known for their savvy social media presence.
PGA Tour Superstore is owned and operated by Golf & Tennis Pro Shop, Inc., whose controlling owner and chairman is Arthur M. Blank, retired co-founder of The Home Depot and owner of the Atlanta Falcons and Atlanta United FC. PGA Tour is a trademark of PGA Tour, Inc. and used under license by Golf and Tennis Pro Shop, Inc.
PGA Tour Superstore is operated by Golf & Tennis Pro Shop, Inc., a subsidiary of AMB Group, LLC, headquartered in Roswell, GA.
Source:
http://www.sportsonesource.com/news/spor/spor_article.asp?section=9&Prod=1&id=60122