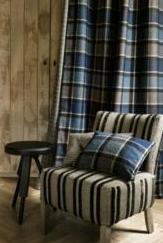 Fabricsandpapers.com has added French design house Casamanace and Yorkshire-based Moon to its growing range of suppliers of high quality designer wallpapers and furnishing fabrics.
Casamance launched its first furnishing fabrics collection in 2000 bringing some real vision to the design interiors market.Its contemporary designs,exquisite colours and variety of materials create an easy-recognisable style.The collection includes furnishing fabrics,wallpapers and wall-covering for both domestic and contract interiors.
Casamance takes its inspiration from the love of beauty.Its exclusive designs are enhanced by subtle use of colours and sophisticated imagery.
The warmth of wool combined with beautiful textures give Casamance's Aymara collection an aura of comfort.Soft velvets,buttoned ribbons and graphic embroideries in bright colours,bring to life the neutral,contemporary colour palette of the fabrics.
Samarcande range of wallpapers evokes memories of distant travels and charmingly reinterprets oriental designs from the time of the great silk route in a thoroughly modern manner.A hint of cashmere discretely enlivened with a metal thread and wide graphical stripes,seemingly matured by time.The effects of the material are subtle and delicately inspired by the plant world.Warm colours,carefully chosen monochromes and ethnic tones mingle to create precious harmonies.
Holmia is a contemporary collection which expresses its originality through its play on light and textural effects.Fine shavings shaped into waves,subtle interlacing,a finesse and depth of lines and circles.
An elegant collection of woollen tweed and tartan furnishing fabrics for domestic and commercial interiors from Moon have been recently added to the Fabrics and Papers product range.Moon was established in 1837 and established its name in the world of high fashion clothing.
The dyeing and blending of the raw wool fibres to the spinning of the melange yarns takes place in Guiseley,West Yorkshire producing beautifully textured woollen fabrics for drapes and upholstery.
A new range of throws and handle lanterns perfect for the winter months have also been added to Fabrics and Papers growing online design emporium.
Soft lighting and draped throws can do wonders for your mood as the cold winter sets in;our beautiful James Brindley leather handle lanterns create the natural warm glow of an open fire in any room and are available in two styles and three sizes costing from£50 each+p&p.The range will bring a sleek design statement to any home.Clustered together in groups,in varying sizes,the mix of leather,highly polished stainless steel and glass will magnify the effects of candlelight.
The mini lamp in polished stainless steel with hooped handle may be miniature in style but is large in character.Scented candles from Nina Campbell and James Brindley embellish a warm winter feel and are available in a range of fragrances from grapefruit to ginger.Throws are a fantastic addition to room,draped over the sofa or at the end of your bed they add a touch of style and colour in an instant and during winter our range of thick knits and woollen styles will add a sense of warmth and coziness.
Our Alpaca throws, represent sheer luxury 100% baby are made from the finest grade of Alpaca. Baby Alpaca wool is prized for its softness and warmth but is incredibly lightweight. Perfect for beds or sofas the throws measure 178cm x 127cm and come in three neutral tones of grey, silver and beige, with cream fringing.
Emma Vans Agnew, design director, Fabricsandpapers.com, said: "When I first saw the Casamance range I was immediately impressed by the fantastic range of colours on offer. Everything from subtle shades of dove grey and baby beige to startling electric purples and burnt orange. Couple this with some inspirational French style globe-trotting designs and you have a wonderful mix to select from".
"The Moon collection is very traditional but with a modern twist and provides a soft warm natural addition for use in upholstery. The range of handle lanterns and throws will add a stylish touch to any room. The baby Alpaca throws are incredibly soft and luxurious and are ideal for an armchair, sofa or bed".
Source:
http://www.fibre2fashion.com/news/textile-news/newsdetails.aspx?news_id=119199