Technology Editor Steve Bush, looks at the latest LED products hitting the market from Cree, Lumileds, Seoul Semiconductor, Osram, Nichia, and Sharp.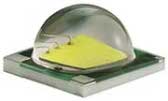 All the major LED suppliers have released additional lighting-class LEDs over the past few months, particularly at the high-power end for light bulb and downlighter replacement.
Cree's latest is the XM-L, sampling in 2,600K to 5,000K colour temperatures, with neutral whites predicted to be capable of 850 lm, and 84 lm/W, at 3.0A.
Incandescent bulbs are 10-15 lm/W, emitting at least as much as a 60W light bulb.
At 350mA, 3,000K (warm white) XM-Ls will deliver up to 113 lm and 117 lm/W, and 4,000K (neutral) up to 134 lm and 138 lm/W.
Double the current and 3,000K LEDs will hit 220 lm and 108 lm/W, and 4,000K will deliver up to 260 lm and 128 lm/W.
Cree
For 35W-50W halogen MR16 retrofit bulbs, Cree has developed the 12-die 9x9mm MT-G.
"Cree engaged driver, thermal and optic providers to create an MR16 lamp reference design to further enable customers to address this market," the company said.
The reference design, which can be found on the firm's website, makes educational reading even if Cree is not your LED maker of choice.
Binned and tested at 85°C - a trend that is to be applauded as this is a more realistic operating temperature for bulb replacements - the 3,000K version delivers 560 lm at 1.1A, or up to 1,525 lm at 4A.
Filling in its range, the firm has also added the 0.25W 3.5x3.5mm ML-B LED for distributed lighting - panel lights and fluorescent tube replacements, for example.
Luminous flux from the 5,000K (cool white) LEDs is up to 30 lm at 80mA, and up to 24 lm in 3,000K.
Lumileds
Lumileds is going for the retrofit bulbs market with a high-voltage LED that can run from rectified AC and "eliminates the need for a DC electronic driver", said the firm.
The Californian firm is not the first to offer high-voltage LEDs. Seoul Semiconductor beat it by several years with its Acriche range, which uses large numbers of die connected in series.
Called Luxeon H, the Lumileds high-Vf device runs on approximately 50V. At 4.5x3mm, a few can be fitted in a luminair, plus a dropper resistor to set the current to 20mA from 120V or 240V.
"The base of some bulbs is so small that it is impossible to fit both an electronic driver and a heatsink in the space. Luxeon H only requires a bridge rectifier and a resistor, both of which are very small, and the remaining space can be used for thermal management," said Lumileds vice-president of product marketing Frank Harder.
Targets are candelabra bulbs and Edison E10-E17 types.
Two colour temperatures are available: 2,700K and 3,000K, with typical CRIs of 83 and typical flux of 84 and 90 lm respectively.
Another introduction, Luxeon S, is a first among lighting LEDs, as colour consistency has been improved to the point where no colour binning is required.
"All S emitters are targeted to the black body curve and populate an area within a three-step MacAdam ellipse," claimed the firm.
Colour temperature is 3,000K and CRI is above 80.
"Luxeon S breaks new ground not just for Lumileds, but for the entire LED industry, from the thin film flip-chip and Lumiramic phosphor, to the tight alignment between the nine die in the package," claimed Harder.
It delivers 1,300 lm at 85°C, and its compact emission area, for a multi-die device, allows a 10° beam to be created from a reflector less than 50mm in diameter.
Seoul Semiconductor
Seoul Semiconductor (SSC) has an AC and DC-powered LED for replacing incandescent downlighters up to 60W.
Called A8, it will come in a 25x22x2mm package and emit 700 lm. Samples are available, but at the time of writing the data sheet remains under wraps.
Some idea of operation can probably be gained from the older, smaller A3 range, where 110V versions have a forward voltage of around 90V and require a dropper resistor to set current at 40mA, and 240V types drop 180V and need 20mA.
SSC also announced the 8x8x3.7mm ceramic-packaged A7, which produces 305 lm from 3.2W.
This is aimed at MR16, PAR30 and PAR38 downlights, and once again a high forward voltage means a resistor can be used rather than a down-
converter without losing too much efficiency.
With Seoul part numbers, 'A' means Acriche high-voltage series, 'Z' means the more conventional 3-3.5V in small packages, and 'P' means low-voltage in large packages.
Its latest 'Z' parts are Z7, which is a 9x7x3.2mm 4W LED producing 440 lm at 5,500K, and Z6.
Z6s have four-die in the package, each with its connections brought out individually.
There is a full-colour option with a colour-mixing package and red, green, blue and white LEDs of 1W each.
"If they are operated at the same time, the 4W white colour can be created in diverse colour temperatures including: pure, warm and neutral white," said SSC.
Osram
Osram recently claimed a warm white world efficiency record, at 142 lm/W.
"With a correlated colour temperature of 2,755K the LED achieves a CRI of 81," said Osram. "An optimised set-up at 3,000K could achieve 160 lm/W.
Efficiency generally drops with colour temperature, and 2,755K is a particularly warm white, so this is a notable achievement.
Measurements were taken at room temperature with pulsed current to avoid heating at a density of 350mA/mm².
"If we apply this approach to a 2mm² chip we can improve efficiency by a further 10-15% for the same operating current. We would then expect 180 lm/W for a pure warm white LED and good colour rendering," said Osram pre-development manager, Dr Norwin von Malm.
Nichia
Nichia, the inventors of white power LEDs, not long ago introduced a particularly efficient production LED. The 3.5x3.5mm NVSx219A, which the firm is branding the Nichia 291, offers a typical output of 140 lm (5,000K) with a 1W input.
Sharp
Sharp has added six 10W LEDs to its Mini Zeni range, with outputs up to 690 lm to replace 50W halogen lamps. The 15x12x1.6mm devices are ten strings of six LEDs, which drop 19.6V at 480mA.
Colour temperatures range from 2,700 to 6,500K, and CRI is high: 85-87, being best between 3,000K and 5,000K.
While reading this great flurry of announcements, designers should be aware that several LED makers have got into the habit of announcing the brightest devices planned, rather than the brightest available at the time of the announcement, so it is always worth checking with your parts distributor for availability.
Source:
http://www.electronicsweekly.com/Articles/2012/11/15/50850/the-latest-led-light-developments.htm