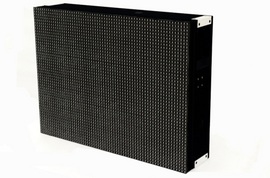 Traxon Technologies introduces high-resolution media systems
Date Announced: 16 Mar 2011
East Rutherford, NJ –– Traxon Technologies, a global leader in solid-state lighting and control systems, introduces its premier line of High Resolution Media Systems. The newest addition to Traxon & e:cue's innovative product portfolio, High Resolution Media Systems provide crisp, clear imaging and exceptional color reproduction for scalable communication messaging in both interior and exterior environments.
Able to meet the demands of scalable media systems for retail and entertainment environments, sports arenas and exhibition facades, the new High Resolution modules display true-to-life tones, vibrant videos and graphics. Available in a variety of pixel pitches, the slim profile Media Systems can be combined to create a range of screen sizes and resolutions to accurately deliver bright, sharp messaging.
Advanced technology facilitates seamless video input and graphics programming, giving the High Resolution Media Systems varying levels of control capability in conjunction with the processor. Daisy chain topology and simple cabling, paired with a lightweight modular design, ensures easy installation and low maintenance costs.
"High Resolution Media Systems are also ideal for integration into full system solutions and creative installations," said Tony Carrella, President of Traxon Technologies USA. "Their modular design allows for configuration of mixed resolution media solutions, resulting in an even broader, inventive design capability."
The High Resolution Media System's image, text, and video capabilities are further extended with its uniformity effect and high refresh rate, to boldly communicate branding and messaging like never before.
About Traxon Technologies
Traxon Technologies, together with its control brand, e:cue, is a global leader in solid state lighting and control systems providing complete, sustainable and intelligent lighting solutions. Working with our extensive partner network, Traxon & e:cue transform creative visions into unforgettable lighting experiences, elevating architectural, entertainment, hospitality, and retail environments around the world.
Flexibility, simplicity, and innovation are our guiding principles. From software and product development, customization competence and cutting-edge integrated lighting and building material solutions, to worldwide project management, planning and support services, to our dynamic and global team of outstanding professionals, these values drive and shape us within our ever-evolving industry.
Our customers and partners are the leading international lighting design, architecture and engineering firms, as well as the world's premier developers and brands. Together we have completed over 4,000 installations worldwide, including renowned architectural landmarks such as Lincoln Center and WorldWide Plaza, New York; The Yas Hotel, Abu Dhabi; International Commerce Center, Hong Kong; Tower Bridge, London and many other prestigious entertainment, hospitality, and retail interiors and facades.
Traxon & e:cue's innovative, integrated control, software, product and project portfolios have won many awards and accolades for their pioneering technologies and dynamic solutions, including LFI Innovation, iF Design, Red Dot Design, DDC, POPAI, and MELDA.
In 2009, Traxon Technologies entered into a joint venture with OSRAM, strengthening our position in the market by combining knowledge and experience in technology, and building on synergies with OSRAM's global presence.
For more information, please visit www.traxontechnologies.com or www.ecue.com.
ContactAmy Meredith, Director of Marketing Traxon Technologies USA, Tel: 201.508.1570
E-mail: amy.meredith@traxontechnologies.com
Web Site: www.traxontechnologies.com or www.ecue.com
Source:
http://www.lightsmanufacturer.com/2011/04/traxon-technologies-introduces-high-resolution-media-systems.html