Phase-cut dimmable driver IC handles power factor correction and constant-current output with a single stage delivering 5% regulation across the LED load.
Power Integrations used the Munich Electronica trade fair as a stage to announce its LYTSwitch LED driver IC family. Targeting solid-state lighting (SSL) retrofit lamps, the driver IC utilizes a single-stage architecture yet delivers power-factor correction and constant-current output with support for Triac or phase-cut dimmers.
In many cases, driver IC companies have adopted two strategies to target the retrofit lamp market - using single-stage designs for low-end lamps, and dual-stage designs for high-end lamps that require power factor correction and dimming. Power Integrations vice president of marketing Doug Bailey said, "We believe we can address the high end with one stage. That's what LYTSwitch is designed for."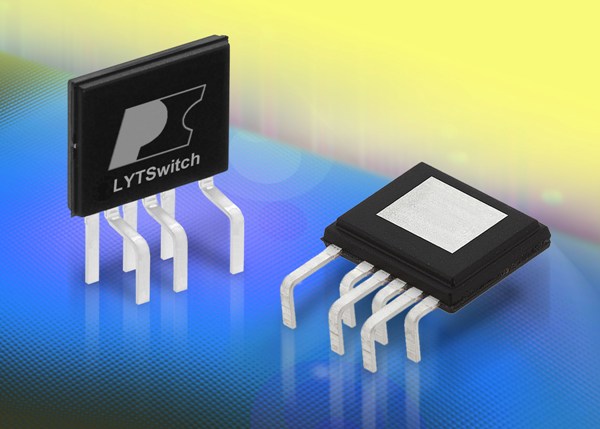 Power Integrations LYTSwitch driver IC
Bailey acknowledged that two-stage designs can remove ripple from the output, but claims that a single stage can be superior in most other ways. He said a single stage eliminates the need for an electrolytic capacitor between stages, is more efficient, and results in a smaller design. Moreover, Bailey said you could still filter the output ripple to the required level with a capacitor on the output.
The company says that the IC can support a power factor greater than 0.95 while delivering total harmonic distortion below 10%. Primary-side regulation delivers constant-current output accurate within +/- 5%.
Retrofit lamp target
The design can be used in a number of retrofit lamp applications. For example, Power Integrations and Cree have developed a reference design for a PAR38 directional retrofit lamp. Apparently that design uses Cree's new CXA multi-emitter LEDs, announced a few weeks ago. The reference design is surprisingly light - lighter than a legacy lamp - indicating that the efficient design needed little in the way of heat sinking.
There are elements in the design that target other applications, such as LED-based tubes designed for linear T8 fluorescent retrofit applications. Bailey said that the design team ultimately chose a higher switching frequency of 132 kHz based on T8 demands. The higher frequency means a design can use smaller magnetic components, allowing the driver electronics to fit in the constrained space inside a tube behind an LED light engine.
Like virtually every IC vendor announcing a driver IC these days, Power Integrations claims that its new product works with a broad array of dimmers with smooth transitions and no ill-mannered behavior such as popping on belatedly as a dimmer control is raised. Unfortunately, the SSL industry has no way to rate or compare driver IC dimmer performance.
The LYTSwitch is packaged as a through-hole single inline package (SIP) with prices ranging from $0.70 to $1.60 in high volumes. Bailey said that through-hole printed-circuit-board designs are broadly required in retrofit lamps where other components such as magnetics and capacitors aren't available in surface-mount packages. The IC (pictured nearby) can be mounted vertically or horizontally to the circuit board.
Source:
http://ledsmagazine.com/news/9/11/7