After four years, Paul von der Heyde is stepping down as chairman of the British Furniture Confederation (BFC), the furniture industry's Government lobbying body. The new chairman is Jonathan Hindle, group managing director of KI (Krueger International) EMEA.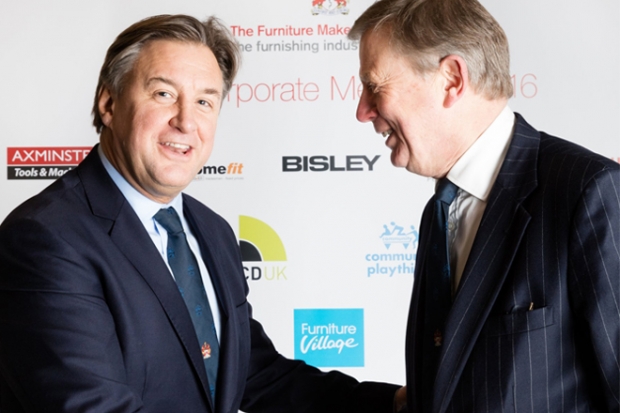 Jonathan originally trained as an architect/designer before moving into sales and marketing in office furniture and property. He has been with KI for the past 21 years developing its UK, European and Middle East and Asian operations. He was master of the Worshipful Company of Furniture Makers, the furnishing industry's charity and livery company in 2012-13. He founded the Design Guild Mark and Corporate Membership at the livery, and is currently chairman of the fundraising committee. He also sits on the FIRA council and the board of the British Contract Furnishing Association (both members of the BFC).
Handing over the reins to Jonathan, Paul von der Heyde says: "It has been a great pleasure and very rewarding to chair the BFC. The confederation is a unified and determined team with a common purpose. I have thoroughly enjoyed working with the chief executives of the trade associations of our broad industry, who have forged a good common understanding. Our voice into politicians, Government and the European Commission has made a difference - I am sure that will continue and wish Jonathan huge success as he takes over the challenge."
Says Jonathan: "The BFC is currently engaged on a number of key issues - apprenticeships and design and technology education in schools, the flammability regulations, exports, design copyright and sustainability and the circular economy. I am looking forward to helping what is already an effective organisation to drive forward with its aim to ensure our important industry has a voice in Government and is recognised for the considerable contribution it makes to the UK economy."
The BFC maintains regular dialogue with Government and other influential stakeholders to ensure that all policies and initiatives support a thriving furniture, furnishings and bed sector. Many of its activities are channelled through the All Party Parliamentary Furniture Industry Group (APPFIG), chaired by Stephen McPartland MP.
The BFC was set up by the Furniture Makers Company, the furnishing industry's charity and patron. Its members also include the British Contract Furnishing Association (BCFA), the Association of British Furniture Manufacturers (BFM), the National Bed Federation (NBF), the Furniture Industry Research Association (FIRA), and The Leisure and Outdoor Furniture Association (LOFA). It also has affiliations with other trade associations including the Association of Master Upholsterers and Soft Furnishers (AMUSF), industry training agency Proskills, and Anti-Copying In Design (ACID).
Source:
http://www.furniturenews.net/news/articles/2016/03/1915581926-new-chairman-industry-lobby-group-bfc