A textile machinery symposium was held at Tehran in Iran by VDMA, the German association of machinery manufacturers on April 21 and 22, 2015.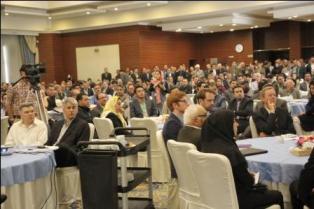 "Around 600 Iranian guests attended the symposium which was the first German event of this type on Iranian soil in the last ten years," a press release from Bruckner informed.
According to the press release, this large gathering of 600 guests, showed clearly the interest in German textile machinery and their good reputation.
The event was inaugurated by Golnar Nasrollahi, Iranian textile minister, Regina Brückner, chairwoman of the VDMA Association for Textile Machinery and German envoy, Michael Sternberg.
In total, about 40 technology presentations were held and Bruckner participated with a paper about innovative technologies on thermal treatment of textiles.
At the end of each presentation, guests had the opportunity to exchange views and compare notes with the representatives of German companies.
According to Bruckner, it was clearly perceivable that there is a lot of unsatisfied demand in technological know-how and investments in Iran and a great general interest in German plants and lines.
"This is a clear opportunity for Bruckner with their production site in Germany to score in comparison with their competitors," Bruckner added.
"Many of these companies do actually need spare parts and after-sales service but are also interested in investing in new machines," it said.
The Iranian Textile Minister emphasised that it is one of the targets of the Iranian government to stimulate exports from the textile industry.
"Due to the political sanctions in the last few years, Iranian companies could only buy Asian machines. But now the prospects are good for German machinery suppliers to regain market shares," she too added.
Since decades, Bruckner is leading in the development and the production of finishing lines for the textile industry.
It offers individual solutions for the coating and finishing of technical textiles, nonwovens, floor covering and classical garment textiles.
In addition, it also has in its portfolio, energy saving systems such as heat-recovery or exhaust air cleaning systems and offers advisory service during the complete project phase and beyond.
Source:
http://www.fibre2fashion.com/news/textile-news/newsdetails.aspx?news_id=172067