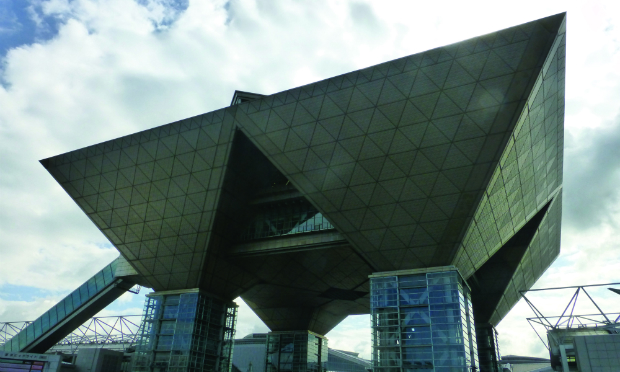 Japanese retail packaging is as culturally unique to Japan as its language, traditional dress and customs, and it took four days at Tokyo Pack 2014 to begin to make sense of characteristic traits in pack construction and consumer communication. What immediately strikes you walking into Tokyo Big Sight's show halls is the packaging eye-candy, a focus on attention-seeking product labels, easy-open features and novel dispensing technology. And refills, refills, refills: 'new and improved' in so many different ways.
You realise that certain design choices that seem quirky are in fact an expression of Japan's grand plan for dealing with the critical issues of an ageing population and the need for the island nation to use resources economically. You also learn that what is known in Japanese as "share of eye" is linked to share of the market and design cues aim for big shopper impact. The result is extraordinary retail theatre that assembles visually exaggerated elements not surprisingly akin to Kabuki style.
Awards
Japanese packaging innovation is largely in the hands of machinery manufacturers and material converters. Organised by Japan Packaging Institute, Tokyo Pack is a two-yearly opportunity for companies to find new audiences from across Japan and around the world for concept prototypes and latest designs already on the market with early-bird brands. Brand owners depend on the sector's expertise to create robust supply chains and make them more economical and less wasteful of raw material and energy resources.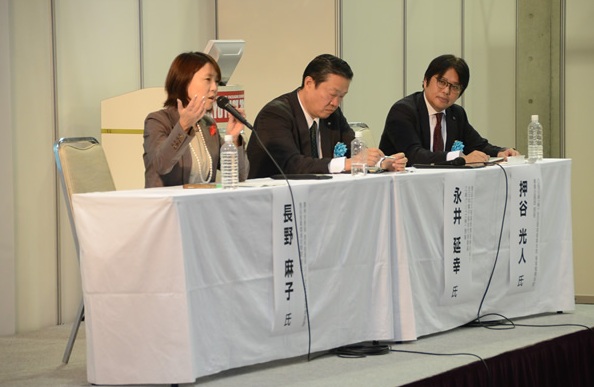 This route to the shelf in a market-ready pack design is cost-effective for the brand owner says Kyoshin Printing executive director Yasuo Hirose, the originator of mini paper masterpieces aimed at the pharma sector, to provide benefits for retailers and end users. He deconstructed one to reveal the intricate mechanics of a retractable hanger; another of them was a Japan Packaging Contest 2014 winner with an easy open and close system being used by Teva Pharma Japan.
Winners of Good Packaging awards go to entries that judges think "meet the demands of society and the times". Practical dispensing technologies did well this year such as Success Medicated Shampoo with a six-panel nozzle to distribute shampoo thoroughly over the scalp. The product family by Kao Corporation is completed by a companion refill pack showing the typical use of an attention-sticker to highlight reasons to buy. The Japanese toiletry soap company's scatter-proof spout for Softy Hand Clean Gel also had the judges' approval.
Packaging design makes a big feature of user-friendly elements. Produced for the Japanese market, instructions are sometimes given in English, as in Irodre's "squeeze and turn" bottle developed by Tokan Kogyo, a winner in the accessible award category. The cap has a small diameter nozzle to give a controllable flow without dripping and the easy-squeeze bottle is suitable for hot-filling.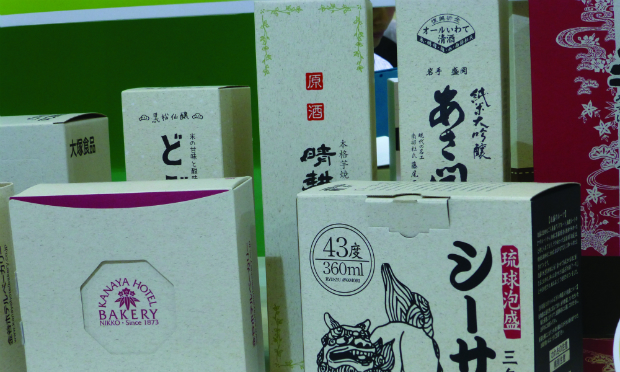 Extended Producer Responsibility obligations favour lightweight materials, larger portion packs and mono-material packaging and as a consequence whisky and gin are found being sold in four-litre PET bottles. Refill packs get a positive environmental rating and are common for household cleaning and personal care products. Tokyo Pack was awash with technically refined examples.
A refill standup pouch for SCJohnson mould remover earned Dai Nippon Printing a technical award for its metallic, clean look and stability when dispensing a large amount of content. Another winner was the anti-slip refill pouch pack for Oleo D'Or Botanical Oil Treatment co-developed by exhibitors Kitamura Chemicals and Meiwa Pax with brand owner Kosé. Choice! detergent is a first-time user in Japan of mechanical recycled PET in a laminated packaging format, claim Toppan Printing and Japan Gateway. Toppan Printing also won a Japan Trade and Industry Award for Kao's Attack Reset Power detergent refill pack that affixes to the reusable original box.
Of the more extraordinary Japan Packaging Contest winners, a toilet cleaner called Bluelet has a mirror-effect surface on the shoulder of the pack to reflect any stains lurking on hidden areas of the toilet bowl – a 'first' for the category claim the co-developers Dai Nippon Printing and Kobayashi Pharmaceutical.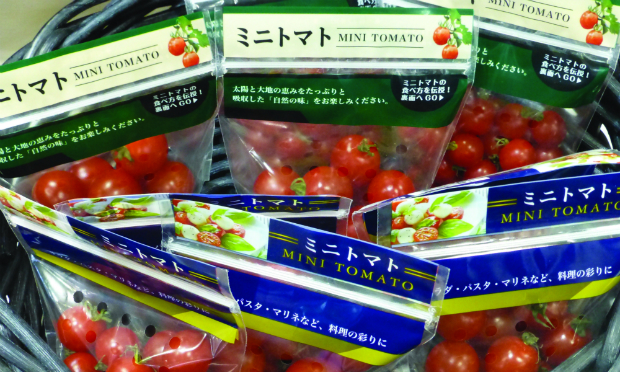 Overseas influence
The show attracted some overseas exhibitors with products they believed a perfect fit for Japan's future vision. Australian company Snapsil has devised a flexible pack and patented the "easy, one-handed opening action, with a snap sound reinforcing product freshness and integrity". It teamed up with Multivac to ensure would-be users of an easy path to market. The thermoformed pack is offering cost and barrier advantages for condiments, infant formula and confectionery. Snapsil is suitable for beverages up to 300ml, restricted by the force required to open it. The Snapsil Squirt or Dunk pack first launched in Australia with a tomato ketchup. Chief executive Neil Cashman says UK production is due to start by the end of 2014. Co-packer Bakkavor is using it for a foodservice condiments application. The focus is now on Japan, which suits Snapsil because the market is "very sophisticated in terms of packaging aesthetics and demands for functionality" adds Cashman.
PopPack's American inventor Bill Perell relied on Japanese expertise to develop a flexible pack that uses air in a bubble as a lever to pop it open with an audible 'pop'. The list of credits includes Oji Package Innovation Center, Tokyo Foods Machinery Company/Multivac, J-Film Corporation, Kawashima Packaging Machinery and Mitsubishi Plastics. Condiments, dried snacks and confectionery are PopPack's target markets, where Perell believes it can improve food hygiene and avoid waste. PopPack's 'double bubble' variation reseals the sachet pouch without the added expense of a cap, making hair shampoo affordable for families in the developing world says Perell.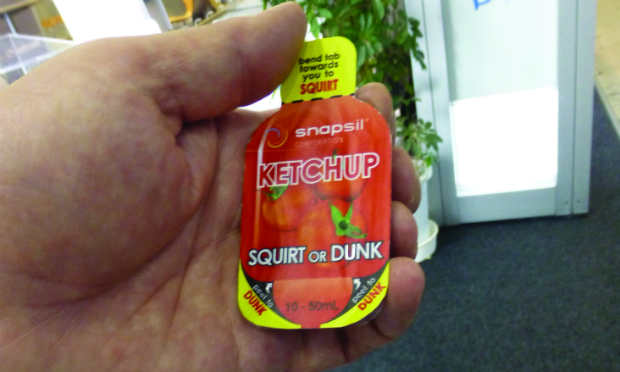 Japan's circular economy (CE) approach is based on the reuse of waste from one industrial process as a feedstock for another. Ecovative is producing a compostable substitute for expanded foam packaging made from mycelium (mushroom 'roots') – actually grown by the American producer – and low value crop waste. The company whose customers in North America include electronics giant Dell, is preparing the ground for a future expansion in the Asian market. "Japan looks like an exciting opportunity for mushroom packaging due to the need to find products that are less wasteful," says Ecovative's business development manager Jonathan Parry.
Food freshness must be 'seen to be believed' and oxygen scavengers for enhanced shelf-life are positioned to be easily visible inside the pack. Exhibitor Nordson promoted the improved safety afforded by a hotmelt adhesive system that fixes sachets to packaging film with small dots of adhesive, to prevent accidental ingestion.
Luxury packaging is expected to reach the same high environmental targets. A shiny, holographic surface is relatively low-energy when produced by a technique that transfers a 30 nanometer layer of aluminium from a reusable PET film to paper and paperboard, which can range from 35gsm to 500gsm. The resulting material retains its machinability and is recyclable claims Shanghai Luxin Packing Materials Science and Technology, developer of the TransMet range. Target sectors are cosmetics, perfume and personal care products, gift boxes and labels for wine and liquor.
Integrity and efficiency
Konica Minolta Japan recently became the local distributor of French-based MGI Digital Graphic Technology printing and finishing equipment. The MGI JETvarnish digital spot UV coater, which claims resource-saving benefits, produced glamorous cosmetics packaging enhanced by 3D raised effects.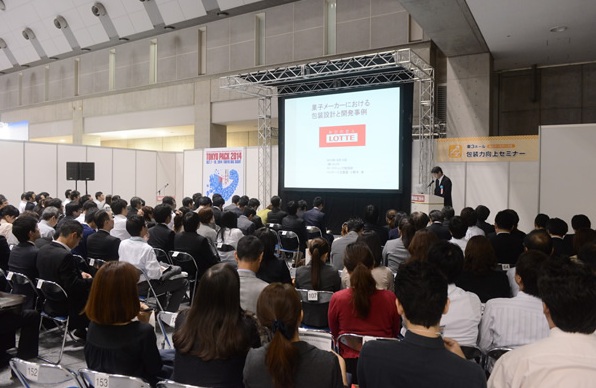 Driving up levels of pack integrity and efficiency in manufacturing processes and the retail distribution chain was a recurring theme. A show debut was production machinery for retail ready packaging (RRP) with potential to shake up Japanese grocery retailing. The RRP concept has barely reached Japan's shores but this soon could change if the Rengo Smart Display Packaging system wins business from Japan's biggest supermarket chain. Rengo executive vice president Yoshitaka Ozawa revealed Aeon was the target in an exclusive interview during a personal tour of the Rengo stand. The corrugated specialist also launched the "revolutionary" variable height I-Pack and Gemini Packaging System for mail order channels, a Delta Flute standard board for lightweight packaging and a system for fresh produce that uses inorganic filler to stop moisture pass-through.
The eye-catching, speedy twin-arm Yaskawa Electric Motoman-SDA5D was filling up trays at two or three every minute with wrapped baked items of two different sizes and shapes.
Japan's retail sector is multi-channelled and packaging and distribution has to be tailored to its different needs. There is a convenience store every 200 metres in Tokyo, a 7-Eleven, Family Mark or Lawson. The focus is on single-portion packs and foods bought for eating the same day. Natural Lawson is a high-end C-store and NatureFlex producer Innovia is selling into that specialist area. Exhibitor Saikou is partnering Innovia in packaging for fresh produce and has introduced the new N946 grade for tomatoes.
Japan has an estimated 5.5 million vending machines. That's around one for every 23 people. Latest designs are hi-tech with the LED touch-screen and integrated collection system for empty drink bottles. Vending systems are not just for drinks and snacks on the go; people can use them to do a top-up shop. HP Indigo displayed cans with digitally printed shrink sleeves for dried rice.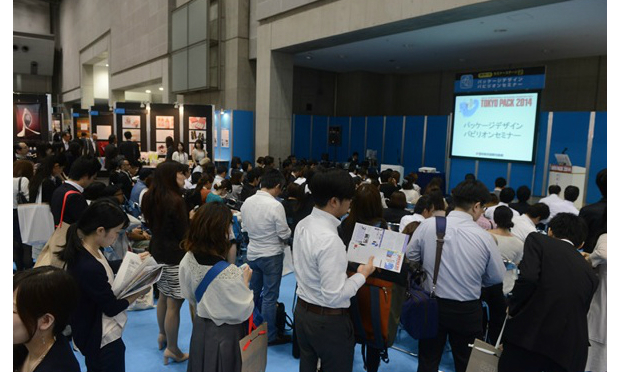 Japanese cultural aesthetics call for immense effort for packaging design to delight the eye with flair and flourish, attention to detail and unblemished perfection. Tokyo Pack looked deeper into what is 'typically Japanese' packaging besides dazzling decoration, revealing that brand relevance in modern Japan depends on total commitment of the packaging industry to the country's social, economic and environmental aims.
Source:
http://www.packagingnews.co.uk/features/cultural-lesson-tokyo-show-japanese-market-report/