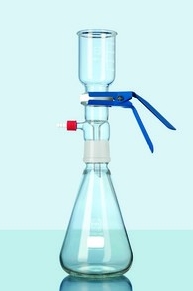 The new Duran® filtering apparatus, made of high-quality borosilicate glass 3.3, scores highly thanks to its modular construction. It can be completely dismantled and is consequently easy to clean.
The PTFE disc holder is an additional advantage because aside from glass, the medium only comes into chemical contact with PTFE. This means that the filtering apparatus can be used to filter virtually any chemical.
Thanks to the PTFE disc holder, porous glass discs with different porosities can also be used in addition to the slit-sieve disc. This creates a wide application scope for filtration using filter paper, membrane filters (47mm) or simply using glass filters. Coarse and ultrafine and also analytical filtration can be carried out thanks to the available porosities of between 1.6µm and 160µm. Furthermore, the filtering apparatus is also suitable for the filtration of HPLC media, testing for bacterial contamination, residue analysis and the filtration of other media.
The replaceable discs and the PTFE adapter in conjunction with the clamp enable rapid changing of porosities or replacement of filters. Cleaning has been significantly simplified compared to a traditional filter funnel as the filter disc with glass rim can be cleaned quickly and easily from both sides. Further information regarding the cleaning of filter discs can be found in the Duran® laboratory glassware catalogue.
Source:
http://www.labmate-online.com/news/laboratory-products/3/duran_group/duran_filtering_apparatus_filtration_made_easy/22891/