Waste campaigners in the UK are praising Starbucks' latest decision to offer a discount to customers who bring their own cup to the cafe.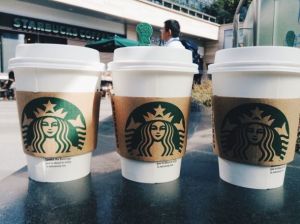 In Australia, it is estimated consumers use one billion disposable coffee cups each year, and while few cafes have followed Starbucks' lead, one New Zealand company has been making headlines for cutting down on cup waste.
Richard Fine, who founded biodegradable coffee cup manufacturer Biopak a decade ago, estimates up to 90 per cent of all disposable cups end up in landfill, equating to around 60,000 kilograms of plastic waste per annum.
In a two-month trial starting next month, Starbucks will offer customers a 50p discount if they bring their own cup to have their drink served in.
The measure could be permanently rolled out after review.
The American coffee chain's decision comes as a major victory for the campaign to reduce paper cups waste, and other coffee chains are expected to follow suit.
But the Department for Environment, Food and Rural Affairs denied plans for a tax on disposable coffee cups after the environment minister Rory Stewart suggested the idea.
Stewart pointed to the success of the 5p charge on plastic bags and argued a similar levy on non-recycled coffee cups could be the next consumer item to be taxed.
Chef and anti-waste campaigner Hugh Fearnley-Whittingstall said Starbucks' decision to give a 50p discount to those who will use their own cup was a "seismic leap".
The news comes after high street coffee chains including Starbucks, Costa and Pret were accused of making false claims of how many paper cups they actually recycle – with only one in 400 recycled, according to Simply Cups, Britain's only paper cup recycling service.
Although recycle signs appear on paper cups of coffee chain Costa, experts demolished the chain's claim its cups could be recycled in mixed paper recycling because they are coated on the inside with a thin layer of plastic called polyethylene.
Source:
http://www.packagingnews.com.au/news/starbucks-moves-to-reduce-coffee-cup-wastage