For second-quarter 2016, epitaxial deposition and process equipment maker Veeco Instruments Inc of Plainview, NY, USA has reported revenue of $75.3m, down 8.6% on $78m last quarter and 42.7% on $131.4m a year ago, consistent with expectations for a soft LED industry environments in first-half 2016.
Of Veeco's 'foundational business' (which has provided relatively stable base business for multiple quarters), the Scientific & Industrial segment comprised 26% of total revenue (supported by MBE systems for advanced research) and the Data Storage segment comprised 18% (totaling $34m, up from $32m last quarter).
The Advanced Packaging, MEMS & RF segment fell back from a record 30% of total revenue last quarter to 23%.
The Lighting, Display & Power Electronics segment – primarily metal-organic chemical vapor deposition (MOCVD) systems – has rebounded from 29% of total revenue last quarter to 33%, driven by an increase in sales to Chinese LED makers.
"Over the past several quarters, LED manufacturers have been plagued by overcapacity conditions and intense price pressures," notes chairman & CEO John R. Peeler. "The first half of 2016 played out as expected with weak LED industry conditions weighing on our MOCVD business," he adds. "More recently, the pace of LED bulb price declines has slowed, which eases some of the financial pressures chip suppliers have faced… We're now seeing signs that the industry conditions are improving across the supply chain," Peeler continues. "We're also seeing customers decommission or replace their older tool-sets and transition production to newer, more cost-effective platforms which can improve their profitability."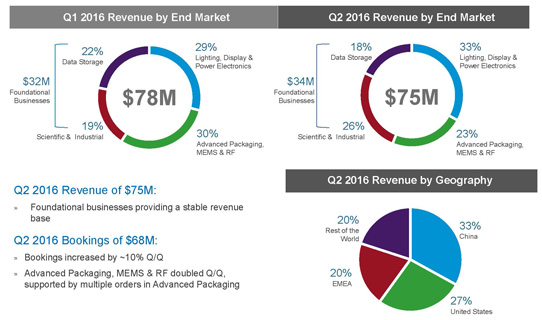 On a geographic basis, China rebounded from 11% to 33% of total revenue, driven primarily by increased demand for MOCVD systems. The USA comprised 27% of total sales, supported by investments from mobile RF device makers. Europe, the Middle-East and Africa (EMEA) and the rest of the world both comprised 20% of revenue each.
On a non-GAAP basis, gross margin has risen further, from 37.9% a year ago and 41.7% last quarter to 42.4% (the highest level in four years), exceeding the guidance range (of 39-41%) for the second consecutive quarter due to better product mix and certain one-time adjustments.
Operating expenses (OpEx) totaled $38m, flat quarter-over-quarter.
Net loss has risen from $5.7m ($0.15 per share) last quarter to $7.6m ($0.19 per diluted share), compared with a profit of $8.4m ($0.20 per diluted share) a year ago. Adjusted EBITDA has worsened from -$2.1m last quarter to -$2.8m, compared with +$12.8m a year ago.
Capital expenditure rose further, from $4m last quarter to $5m, as Veeco continues to invest in engineering programs and equipment to support development activities associated with the Power Electronics and Advanced Packaging markets.
During the quarter, cash and short-term investments fell by $18m, from $349m to $331m, due mainly to the dual effect of low business volumes driving losses in the past combined with an inventory build to prepare for a projected ramp in shipments.
"Veeco closed out a difficult first half of 2016 delivering second quarter results which were in line with our expectations and underscore our focus on operational execution," comments Peeler.
"We have taken decisive steps aimed at improving our through-cycle profitability by reducing fixed costs and streamlining our operations," Peeler says. "This plan will enable us to lower our quarterly adjusted EBITDA breakeven level to between $75 and $80m in revenue [of which about 60% should be MOCVD-related], without compromising our ability to capitalize on growth opportunities," he adds.
The restructuring plan involves the consolidation of three manufacturing operations and streamlining of field and administrative functions.
"We currently manufacture ion beam [etch], optical and certain MOCVD products in separate facilities located in the State of New York," notes chief financial officer Sam Maheshwari. "We are consolidating these manufacturing activities into our New Jersey [MOCVD] facility by Q1 of next year. The consolidation would help us manage volume variability across product lines, while maintaining the ability to scale through our outsourced manufacturing partners," he adds.
"Second, we are reducing certain head-count to create a more efficient field infrastructure and streamline administrative function," continues Maheshwari. "Third, in the R&D area, expenses will decline towards the end of this year as certain development programs are completed. However, we will continue to fund R&D programs that position the company for future growth," he adds.
The plan is expected to be substantially completed by the end of 2016 and to result in annualized savings of about $20m, starting in first-quarter 2017. About 60% of these savings are in OpEx and 40% is from cost of goods sold.
As a result of these initiatives, in Q2/2016 Veeco recorded a pre-tax charge of about $16m ($2m cash and $14m non-cash), primarily due to facility- and equipment-related impairment, as well as severance charges.
During Q2/2016, order bookings were $68m, up 10% on $62m in Q1, driven primarily by Advanced Packaging, MEMS and RF orders doubling (supported by multiple orders for Veeco's PSP products). Orders from Lighting, Display and Power Electronics remain soft and were relatively flat on Q1.
Order backlog was $144m, down 15% on $169m in Q1. However, this was largely due to being adjusted downwards by about $17m following a partial order cancellation from one customer that was previously booked in early year 2015.
For third-quarter 2016, Veeco expects revenue of $70-85m. Gross margin should fall to 39-41%. Net loss is expected to be $10-4m ($0.26-0.10 per share). Adjusted EBITDA loss should be in the range of $6m to breakeven.
"Over the past couple of months, MOCVD utilization rates appear to have stabilized and modestly improved, and this suggests supply and demand are moving closer to equilibrium," says Peeler. Most recently, for the Lighting, Display and Power Electronics segment, orders in the month of July were greater than in the whole of Q2/2016. "Multiple LED manufacturers have indicated plans to add MOCVD capacity over the next 12 months. It remains to be seen whether these investments are intended as positioning for market share gains or to address future demand. In either case, Veeco is well positioned to capture the resulting opportunities with our EPIK platform."
"Looking ahead, we see positive indications that should lead to a pick-up in demand for our MOCVD equipment," says Peeler. "Based on our current visibility and improved outlook, fourth quarter revenues are trending higher than Q3 at this time," adds Maheshwari. "We remain committed to our non-GAAP gross margin target of 40% or higher."
Source:
http://www.semiconductor-today.com/news_items/2016/aug/veeco_050816.shtml