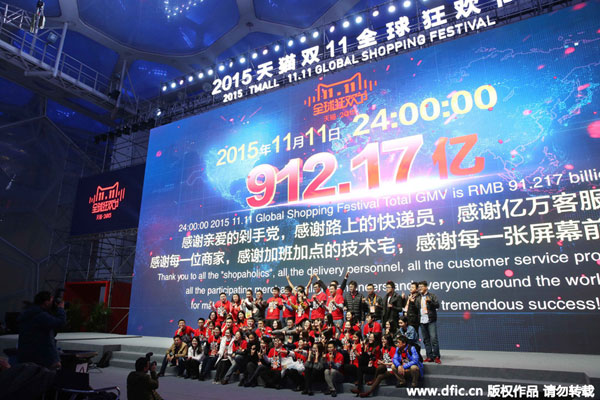 An evaluation report on the "Double Eleven" shopping spree has been released in Beijing, offering insights into China's largest annual online shopping event.
The report shows cases of dishonesty connected to e-commerce platforms and enterprises, and logistics companies & consumers, in a five-day period from November 11 to 15, increased over 57 percent compared to last year.
The report was jointly compiled by the State Information Center and a number of other organizations and companies, based on the analysis of big data.
The report shows double-eleven has become the biggest shopping event for the Chinese e-commerce industry, with Taobao, Tmall and JD.com leading the way.
Wu Xiaoyan is the director of the Media Integration Department of China Reform Daily.
"This year's double eleven has seen a total turnover of 123 billion yuan with 678 million packages. The turnover of Tmall itself exceeded 91 billion yuan and transactions on mobile devices accounted for 69 percent of the total."
Meanwhile, cases involving dishonesty or questionable conduct on e-commerce platforms, e-commerce enterprises, and logistics companies, and by consumers, have also increased during the shopping festival.
Sales of counterfeit products represent nearly 45 percent of those cases, 18 points higher than last year.
"The total cases of dishonesty have increased 57 percent, meaning the building of the e-commerce credit system is facing a big challenge. Bad feedback from consumers, frequent return of goods, and complaints have been plenty. Some sellers use unreal low price as a business trap to promote their products. Fake sales data and other dishonest behaviors were also seen during the event."
To tackle the problems, the report suggests that e-commerce laws should be developed as soon as possible.
It also calls for the establishment of an online credit system to strengthen the discipline of the e-commerce industry.
Li Hui with the National Development and Reform Commission says, as part of a third-party effort, the report aims to help establish a new market regulatory system and to provide a legal basis for future law-making.
"This time, the evaluation is conducted through third-party organizations and companies with an individual perspective of the market. I hope through the coordinated efforts of the government, non-government organizations, and companies and individuals, we can create a better social atmosphere for the establishment of a better system."
Source:
http://english.cri.cn/12394/2015/12/30/3746s910636.htm