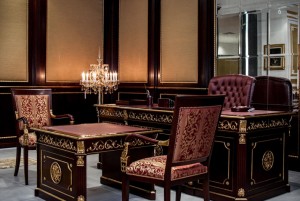 Angelo Cappellini&Copens its new showroom in Jeddah, Saudi Arabia. Angelo Cappellini&C, already well-positioned in the Middle East market, achieves an important commercial goal in a strategic area for the development of new projects regarding contract and residential design.
The display area, made of seventeen in seventeen different spaces for a total surface of 650 square metres (7000 foot squared), is adorned by the most representative pieces of the three brands of the company: Angelo Cappellini, Mediterraneo and Opera Contemporary.
From Angelo Cappellini's? love for classical models, through the romantic taste of Mediterraneo, to the timeless elegance of Opera Contemporary, Jeddah showroom suggests decorative solutions that aim to satisfy a demanding clientele of a? varied market.
Source:
http://www.furniture-magazine.com/news/article/angelo-cappellinic-opens-new-showroom-jeddah/