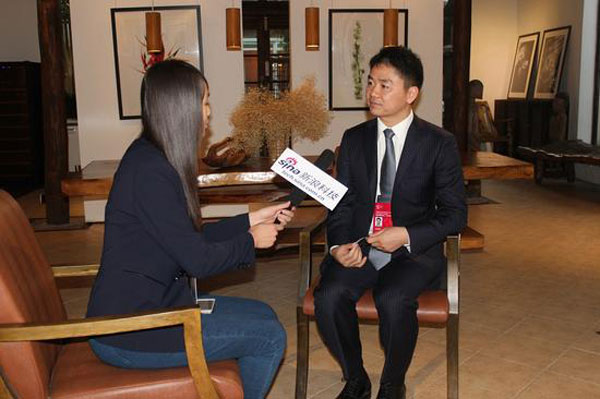 Liu Qiangdong, founder and CEO of JD.com, talks about the role the internet will play in future business operations in an interview with Sina. [Photo: sina.com]
Liu Qiangdong, founder and CEO of JD.com, one of China's largest e-commerce companies, talked about the role the internet will play in future business operations.
He says the internet should further integrate with traditional industries and promote their upgrade and transformation.
"In my opinion, other than just working as a platform for traditional industries, the internet will infiltrate into these industries and integrate with them. The infiltration will go deeper and deeper, thus helping to upgrade and transform these industries."
Citing the manufacturing industry in south China's Guangdong Province as an example, he pointed out the profit Chinese enterprises obtained was too small.
"For example, we took trips to Guangdong Province and thought about the situation of its huge manufacturing industry in the Pearl River Delta for two or three years. They used to process product parts for overseas companies. They exported productivity but the profit they gained was very little. Therefore how to convert the strong productivity of Guangdong Province into Chinese brands, how to increase the profit for the manufacturing industry, how to improve product quality so as to win customers' trust in Chinese brands and make them shop in China instead of going abroad are the tasks of Chinese internet enterprises."
Echoing his point, Ralph Haupter, chairman of Microsoft Greater China Region, says the Internet gave the world a lot of opportunity of growth.
"I think we see the opportunity of technology for prosperity of society, but at the same time, we understand that countries and sovereignty needs to be a part of the way how Internet engages, so govern law being a part of way how the Internet get executed and run in a country. I think this is very important. Having sovereignty, I think, is very important for countries. For us, that's the guiding principle that we bring technology to market. And we think it's also a very, very important example how we bring technology to China."
Haupter said Microsoft has brought in Internet services under Chinese law. The company had an opportunity the last 20 plus years to participate, and somehow even foster, steer, and inject growth.
"I think the Chinese market is an exploding market, that's based on pure size. But I would also say that's based on companies bringing in innovation here, which are respecting and reflecting needs of the local markets."
Official stats show China has more than 668 million Internet users, almost double the total population of the United States.
China has established the world's largest 4G network and is actively participating in creating 5G standards.
Source:
http://english.cri.cn/12394/2015/12/16/3746s908526.htm