Austria-based Andritz has signed an agreement with Spanish recycling specialist Alucha to supply new technologies and equipment for pyrolysis of rejects (waste) produced in the processing of liquid packaging board for paper production.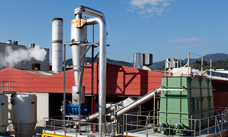 Pyrolysis of rejects helps in protecting the environment and also reduces operating costs in industrial plants, especially in the pulp and paper industry.
During paper production, the rejected lots can be used for recovering fibers. Additionally, by using pyrolysis technology, aluminum, gas and oil can be separated.
The recycled aluminum can be sold, whereas the gas and oil can be used to generate heat or electricity. This helps in reducing total operating costs and conserving natural resources.
As part of the agreement, Andritz will act both as supplier and sales and license partner for Alucha.
In another development, Andritz Automation, a unit of Andritz, has completed upgrading the process control system for a steam boiler at the Hamburger Containerboard mill in Pitten, Austria.
The company was using the process control system with a S5 control system and has been operating as standby boiler since 1993.
Andritz used its comprehensive factory acceptance test (FAT) concept to quickly replace all four boilers in boiler house three five days before scheduled start-up.
Hamburger Containerboard produces 445,000 tons of corrugated base board from 100% waste paper in Pitten.
Andritz, a global supplier of plants, equipment, and services for hydropower stations, the pulp and paper industry, the metalworking and steel industries, operates over 250 production sites as well as service and sales companies all around the world.
Source:
http://paperandcards.packaging-business-review.com/news/andritz-to-supply-packaging-related-technology-and-equipment-to-alucha-170714-4320398