RF, microwave and millimeter-wave product maker Pasternack Enterprises Inc of Irvine, CA, USA has launched a new portfolio of L- and S-band high-gain amplifiers covering 1.2-1.4GHz and 3.1-3.5GHz specifically for commercial and military radar applications as well as observation satellites and communications systems.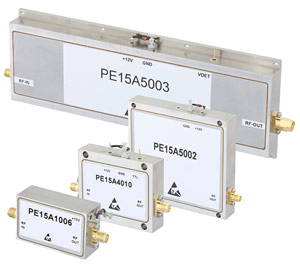 Packaged in hermetically sealed metal enclosures, the new high-gain amplifier modules are optimized for 1.2-1.4GHz and 3.1-3.5GHz radar applications and exhibit what is claimed to be outstanding performance in high gain, gain flatness, high output power and low noise. The RF amplifiers use a hybrid microwave integrated circuit design and gallium arsenide (GaAs) pseudomorphic high-electron-mobility transistor (pHEMT) technology to produce an unconditionally stable module. They are also designed with built-in voltage regulation, bias sequencing, and reverse-bias protection for added reliability. Over-voltage protection is installed externally for easy repair.
A total of six new L- and S-band high-gain amplifiers are offered. Two are low-noise amplifiers (LNA) that demonstrate noise figure performance of 1.1-1.5dB at high gain levels of 40dB (typical) while also exhibiting excellent gain flatness. Also offered are 10W and 20W high-power amplifiers that have gain performance of 40-47dB with 1.0-1.5dB gain flatness. Pasternack is also releasing an L-band driver amplifier that displays solid gain performance of 47dB while delivering competitive gain flatness of 1.5dB.
"The rapid growth of our active component product lines illustrates Pasternack's new strategy to become a leading supplier of active products in the availability market," says Michael Rachlin, active RF/microwave products manager.
Source:
http://www.semiconductor-today.com/news_items/2014/APR/PASTERNACK_220414.shtml