UK-based supplier and contract slitter of flexible packaging materials Lean Flexibles has installed a X6 slitting machine from Universal Converting Equipment.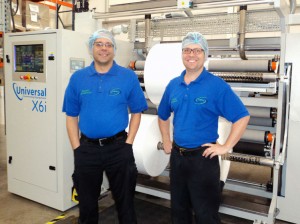 The machine has helped the company to minimise job set up times, produce consistent high quality rolls and also enabled it to run at high speed.
Lean supplies a range of materials, including PET, OPP, PE, CPP and multi-layer laminates.
The new machine will be able to process flexible materials. Its typical specification includes digital web guiding, automatic knife setting (Computaslit), additional tension zone through slitting, closed loop rewind tension control, constant geometry contact rollers, automatic core alignment (Computacore) and a running speed of 600m/min.
The machine comes with a 22-inch touch screen interface and is easy to use.
The company claims that it is suitable for short run work as a typical changeover like setting 20 shear knives can take less than two minutes.
Speaking about the investment, technical director of Lean Flexibles Darren Beardsley said: "To achieve our business objectives, we needed productivity, consistency,reliability and the ability to process thin extensible films through to rigid APET films. The Universal X6 has met our requirements and more.
"Setting shear knives used to take two people to lift the cutter shaft out and back in and the knives would take a long time to set. Now we programme the next slit pattern whilst the machine is running. Once the machine stops, the knives are set faster than we can load a new parent roll into the machine."
Universal Converting Equipment managing director Alan Jones said: "Lean chose to spend more than they originally planned by investing in technology that will pay back for years to come. To compete in their markets they needed to minimize downtime and maximize running speed in the knowledge that rolls will always be good quality.
"Although the X6 incorporates a lot of technology, it is based on fundamental design principles - keep the web path as short as possible, use feedback devices to ensure the machine is doing exactly as required, make the structure rigid so alignment stays perfect and ensure the machine is easy to set up and operate. Load cell tension feedback, automatic knife positioning and core alignment dramatically reduces downtime and increases the time the machine is making money."
Image: Lean Flexibles has installed an X6 slitting machine manufactured by Universal Converting Equipment. Photo: courtesy of Universal Converting Equipment.
Source:
http://packagingmaterials.packaging-business-review.com/news/lean-flexibles-installs-universal-x6-slitting-machine-261114-4451097