Hudson Valley Lighting®, a leader in classic, contemporary and transitional lighting fixtures for more than 20 years, is proud to announce that esteemed, award-winning, New York-based interior designer, Jamie Drake has signed a multi-year contract to design a series of collections. This new alliance was announced by Brent Fields, vice president of Hudson Valley Lighting. The first "Jamie Drake for Hudson Valley Lighting" collections will launch at Dallas International Lighting Market in January 2016.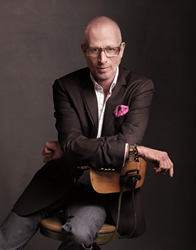 Jamie Drake
Drake's partnership with Hudson Valley Lighting underscores the company's position in the design community as a manufacturer of high quality products created from a "design first" approach. Drake, from his design studio in Manhattan will work closely with the Hudson Valley team to bring his own signature style and renowned design aesthetic, while maintaining the Hudson Valley Lighting genre. Drake is also known for his impressive collaborations with other high-end luxury brands, including a new rug collection with Stark carpet, bath fixture ensembles for French atelier THG-Paris, rugs for Safavieh, furniture lines for Theodore Alexander and Lewis Mittman and bath accessories for Labrazel. Drake also has first-hand experience in lighting as he has designed custom and one-off light fixtures for some of his past projects.
"In the last few years, Hudson Valley Lighting has continued to add modern, contemporary elements into our classic, traditional designs – and Jamie Drake is sure to add a new spin in a similar fashion," said Brent Fields, vice president of Hudson Valley Lighting. "This collaboration couldn't have come at a better time, and we are excited to work closely with him on new designs that will take Hudson Valley to the next level. This collaboration is sure to excite our current customer base, sales team and entice others to take notice of our luxury lighting brand."
With more than 30 years in the industry, Drake has authored some of the country's most glamorous spaces for an impressive roster of clients. Notable residences include a Los Angeles showplace for Madonna, apartments in the Dakota and other historic New York landmark buildings, and multiple projects for his longtime client New York City Mayor Michael Bloomberg, including the renovation of Gracie Mansion, the Mayor's ceremonial residence, and various rooms at City Hall. His commercial work includes a from-the-ground-up medical facility in Florida and a private foundation in New York City.
Drake is also the recipient of countless industry honors and awards. He was recently hailed as one of the top 20 "power players" in Manhattan real estate by the New York Post and has been listed in Architectural Digest's AD100, Elle Decor's A-List and New York Spaces' Top 50 since 2012. In 2011, he was inducted into the ASID College of Fellows and received a triple crown in 2003: the Interior Design Magazine's Interior Design Hall of Fame, the IFDA New York Circle of Excellence for Interior Design, and the Andrew Martin International Interior Designer of the Year. He also received the D&D Designers of Distinction Award in 2000. Drake has also served on many prestigious boards, led or participated in captivating lectures and panels, and decorated more than 30 showhouses to date.
"I have been incorporating Hudson Valley Lighting's classically-inspired collections in many of my interior design projects throughout the years and their quality and attention to detail is unsurpassed in the industry," said Jamie Drake. "I am thrilled to have the opportunity to work with a brand who takes pride in the design of every aspect of each fixture; from the way the light illuminates from the fixture, to making sure the light output looks good from every angle. I've also watched the company evolve with bolder design choices, which is right up my alley. Hudson Valley Lighting also shares my love for mixing genres and periods to create dynamic, one-of-a-kind art forms. I look forward to creating a series of fixtures that incorporate my personal touch and flair as part of Hudson Valley's 2016 collections and beyond."
In addition to Drake's commitment to creating new lighting designs, he will also play a large role in the launch efforts including a large-scale unveiling of his first collections to the Littman Brand's dealer, distributor and sales network at Dallas International Lighting Market in January 2016, media interviews and other live events. Hudson Valley will also support "Jamie Drake for Hudson Valley Lighting" collections as part of a multi-level strategic marketing campaign including national print and online advertising as well as strategic social media strategies.
Source:
http://www.ledinside.com/products/2015/7/prolific_interior_designer_jamie_drake_to_create_new_collections_with_hudson_valley_lighting